Footage which apparently shows a baby Yeti with its mother or father is real, a leading academic claims.
The film was taken by 12-year-old Yevgeny Anisimov, using a mobile phone last month near the frozen Ur River in Kemerovo region, southern Siberia.
Dr Igor Burtsev, Russia's leading proponent of the Abominable Snowman, says he believes the footage is genuine and that it reveals an adult carrying its offspring.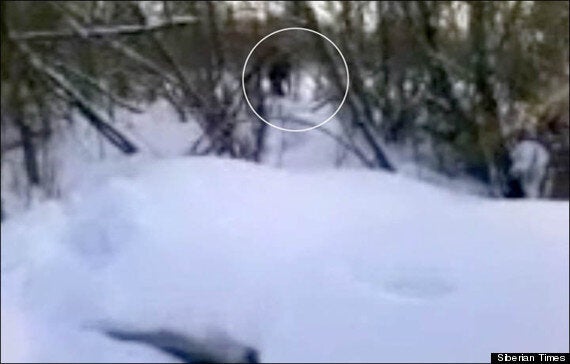 Footage of a Yeti carrying a baby is genuine, claims Dr Igor Burtsev
The shape of the footprints in the snow indicate a large creature and a possible child or baby, he added.
His findings were supported by unnamed Yeti "experts" in the United States and Canada, who have also studied the footage and images of the tracks.
Dr Burtsev added: "It looks like the bigger Yeti - maybe it was mother or father - was making a path for the smaller one.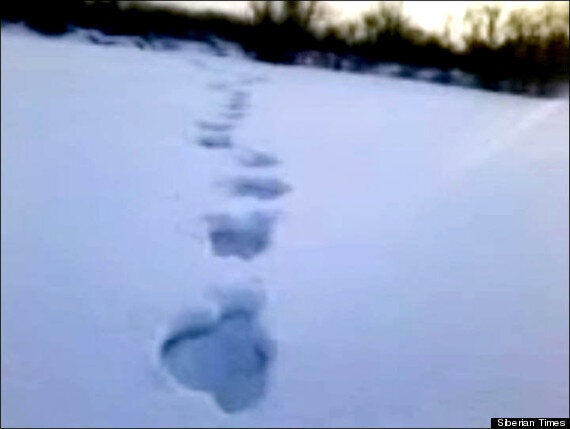 The footprints indicate a large creature and a possible child or baby, Dr Burtsev claimed
"At first we thought we saw extra long arms but now we think these were the legs of younger Yeti, who was carried by the bigger one."
Yevgeny and two friends said they came close to the creature before it stared at them and ran away. The boys also turned and ran, swearing in Russian as they fled.
Local officials have praised the boys over the sighting, which they hope will boost tourism.
While Yevgeny now has a certificate issued by Dr Burtsev to prove he spotted the elusive creature, his teacher at local Podgorny School remains sceptical.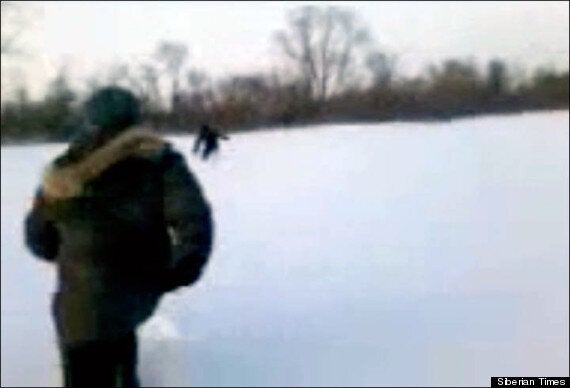 The boys were close to the animal when it stared at them, before running away
"I am convinced it was a staged performance," said Irina Ustyuzhanina. "Yeti do not exist at all, especially in our area full of fields."
"At first we decided not to say a word about it," said Yevgeny, who lives in a village near the coal-mining city of Leninsk-Kuznetskiy.
'We thought nobody would believe us and people would laugh at us. But I was curious to know who was the one I had filmed.'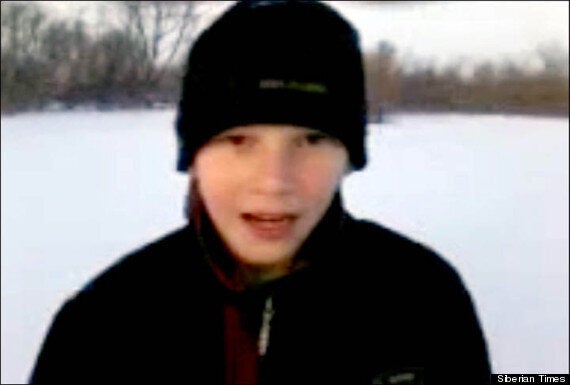 Yevgeny Anisimov, 12, shot the footage near the Ur River in Kemerovo region, southern Siberia
He showed the footage to his grandparents who arranged for a neighbour to send to the Hominology Centre in Moscow.
Mainstream scientists in Russia deny that there is any evidence of the Yeti despite claims from Dr Burtsev and his supporters that dozens live in this area of Siberia.
Sightings of the creatures in the region have increased three-fold over the past 20 years, prompting scientists at Moscow's Darwin Museum to speculate that there may be a small population of these creatures.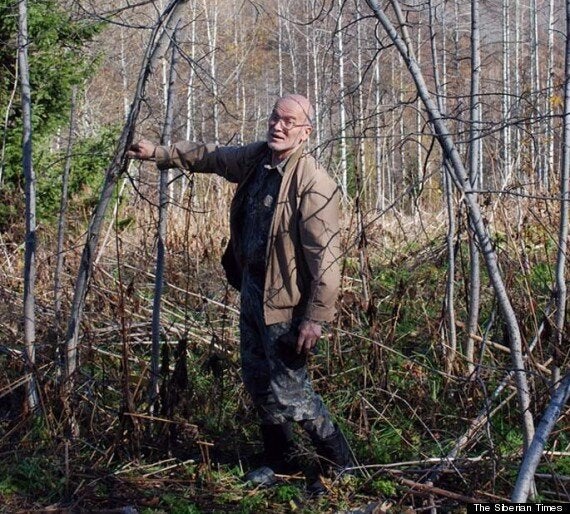 Igor Burtsev, pictured in the Kemerovo region during the Yeti hunt of 2011
"Some of the Neanderthals, however, may have survived to this day in some mountainous wooded habitats that are more or less off limits to their arch foes. No clothing on them, no tools in hands and no fire in the household. Only round-the-clock watchfulness for a Homo sapiens around."
DNA tests on mysterious hairs found on a Yeti trek reportedly revealed they come from an "unknown mammal closely related to man."
Scientists collected the hairs in a cave in the Siberian Kemerovo region in 2011.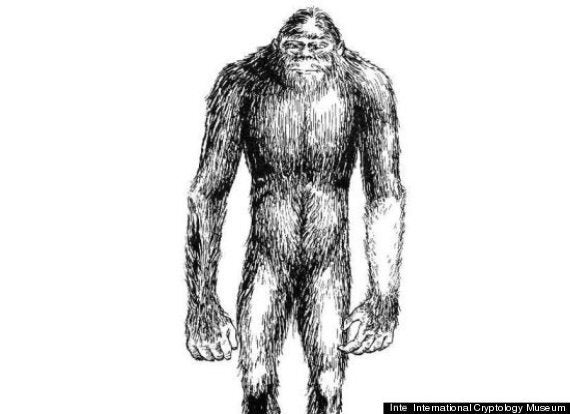 An illustration of the creature reported to inhabit the Kemerovo region of Siberia
The newspaper cites an official website of a regional government in Russia as its source.
It quotes Professor Valentin Sapunov as saying: "We had ten samples of hair to study, and have concluded that they belong to a mammal, but not a human, and not the animals known to the area where they were found, like a bear, or wolf, or goat, or any other animal."
He said: "There was no expedition. The conference participants were accompanied by the press on a field trip to a cave site. It is my opinion that the 'evidence' found in the cave was unreliable."
Related