A mural of Jesus being chased by police and paparazzi close to London Bridge that was reportedly to be by graffiti artist Banksy is in fact a fake.
Unveiled in time for Easter, the artwork shows Jesus Christ carrying the cross while photographers take snapshots of his suffering and angry police wield batons at him.
The piece of street art used his trademark stencilling technique and is in line with his usual subject matter and was reported by London based art site artlyst.com that the new mural has been nicknamed "the stations of the cross." London based public arts enterprise Art Below first tweeted a picture of the new mural on Thursday claiming it was a Banksy. However his PR has now confirmed the artwork is a fake.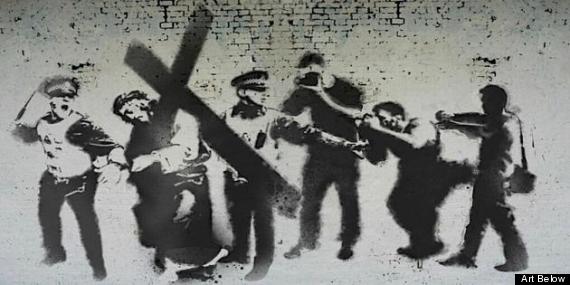 Not a Banksy
The police stencil was taken from this T-Shirt by Red Molotov: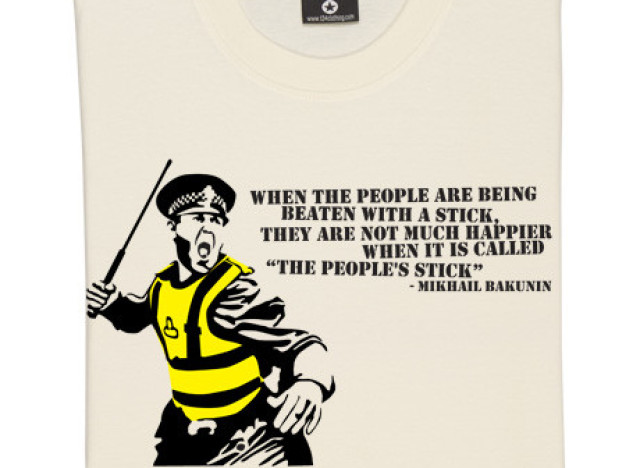 A new Banksy artwork was discovered on the side of an empty building in London in December, appearing in the financial district of Canary Wharf, bearing the simple message: "Sorry! The lifestyle you ordered is currently out of stock".
The piece appeared to accompany an earlier Banksy effort discovered in Chelsea a month before - a trademark stencil and spray-paint picture depicting a girl and a shopping trolley tumbling from the sky with what looks like a bottle of wine and a necklace.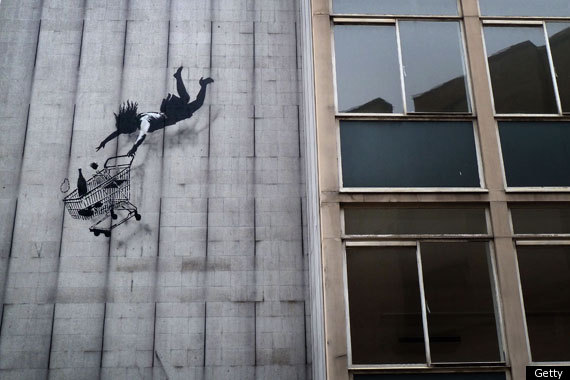 A Banksy named "Slave Labour", on the wall of the Turnpike Lane Poundland store in north London was plastered over in February and later appeared on the US-based Fine Art Auctions Miami site, with a starting bid of £250,000. The listing has now been removed.