We're all for sharing the love with our animal friends. Take the hand-reared baby kangaroo, raised by zoo keepers after being tossed from her mother's pouch.
Or the tale of Wonky the puppy, abandoned because of her crooked legs, being nursed back to health by an animal shelter.
But a Brazilian model has gone one further by Instagraming pictures of herself breastfeeding calves.
Imagem do dia: Sabrina Boing Boing amamentando um bezerro. twitter.com/viniciussattol…

— Vinicius Sattolo (@viniciussattolo) March 25, 2013
That's right. No calf shall go hungry if Sabrina "Boing Boing" has anything to do with it, Gawker has revealed.
By the way, Boing Boing, who also earns a crust impersonating Pamela Anderson and DJing, last week posted images of herself feeding an ostrich, with a piece of fruit tucked under her exposed breast.
Some would say the self-professed animal lover was "milking it", but Boing Boing vehemently captioned her calf care with: "Some things don't need to make sense, just worth it!"
The snaps have caused something of an uproar in her native Brazil.
And as the Daily Dot points out: "No wonder: You're supposed to milk cows, not the other way around."
Boing Boing's antics bring to mind the story of a mother-of-two who breastfeeds her pet pug, Spider.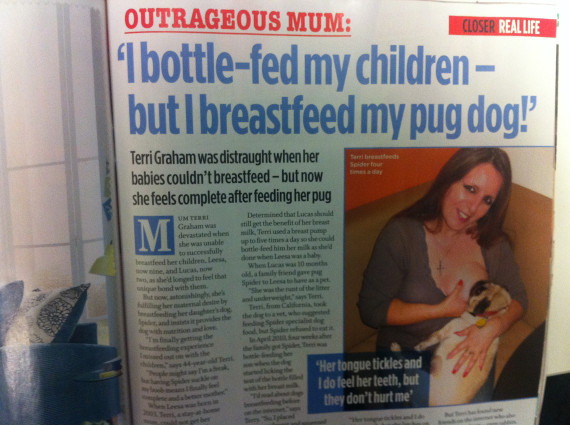 Terri Graham and her pet pug, Spider
Back in October, Terri Graham revealed: "People may say I'm a freak, but having Spider suck on my boob means I finally feel complete and a better mother."
The Californian native added: "Her tongue tickles and I do feel her teeth, but she latches on in a way that they don't hurt me.
"I breastfeed Spider in front of the kids and they think it's amazing."
Is it weird to find this weird? In time will we all be breastfeeding our furry friends? If it's all the same to you, I might just sit that one out...
ANIMALS IN THE NEWS: