To celebrate the release of Lionsgate UK's action-thriller, 'Olympus Has Fallen', in cinemas Wednesday 17 April, HuffPost UK is happy to offer readers the chance to see the film before anyone else for free at a cinema near you on Monday 15 April.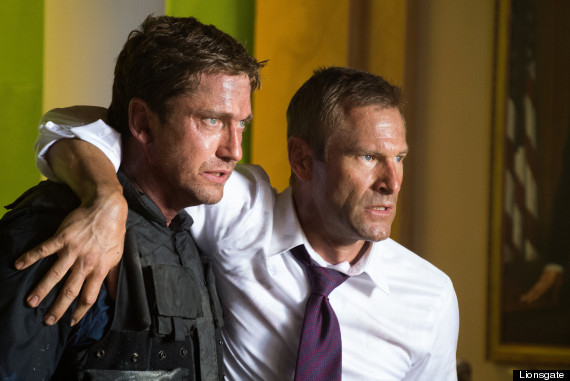 Security officer Mike Banning (Gerard Butler) is the President (Aaron Eckhart)'s last hope in 'Olympus Has Fallen'
Gerard Butler, Aaron Eckhart and Morgan Freeman star in this film from director Antoine Fuqua ('Training Day'). Here's some blurb...
When terrorists take over the White House, a disgraced Secret Service agent attempts to rescue the president of the United States. A small group of heavily armed, meticulously trained extremists launches a daring daylight ambush on the White House, overrunning the building and taking President Benjamin Asher (Aaron Eckhart) and his staff hostage inside an impenetrable underground presidential bunker. As a pitched battle rages on the White House lawn, former presidential security officer Mike Banning (Gerard Butler) joins the fray, only to find himself the last Secret Service member alive in the besieged building.

Banning uses his extensive training and detailed knowledge of the presidential residence to become the eyes and ears of Acting President Allan Trumbull (Morgan Freeman) and his advisors. As the invaders begin executing hostages and threaten to kill more unless their outrageous demands are met, Banning tries frantically to locate the president's young son, hidden somewhere in the building, and rescue the president before the terrorists can unleash their ultimate, terrifying plan. As the body count mounts and the clock ticks down, it becomes clear that Banning is America's only hope of avoiding utter annihilation.
For your chance to see the film at a special preview on 15 April at 6:30, simply CLICK ON THE LINK HERE to claim your tickets. (Terms and conditions here.)
For more information on Olympus Has Fallen visit the official Facebook page here. Watch the trailer below...
Locations - Vue Cinemas at the following places:
Bristol Cribbs
Cambridge
Cardiff
Carlisle
Croydon Purley Way
Dublin
Edinburgh Omni
Harrow
Islington
Leeds Light
Leicester
Manchester Lowry
North Finchley
Northampton
Norwich
Oxford
Reading
Sheffield
Shepherds Bush
Staines
Stratford
Swansea
Thurrock
Watford
Wood Green