A Tory Treasury minister has conceded it would be an "incredible struggle" to live on £53 a week after a petition calling on Iain Duncan Smith to prove his claim he could survive on that amount gained 140,000 signatures in just over 24 hours.
The Work and Pensions secretary said he could live on £53 "if he had to" after market trader David Bennett told the Today programme he earned around £2,700 last year working between 50 and 70 hours a week. Mr Bennett told the programme his housing benefit had been cut even though his children stayed with him several days a week, and that his overall income was now around £53 per week. Greg Clark conceded it would be a struggle
Greg Clark, the Conservative MP for Tunbridge Wells and one of George Osborne's junior ministers admitted in the Times on Tuesday that anyone "earning the comfortable salary an MP has would certainly struggle"
He added: "I think the context is this — we're all having to tighten our belts — right across the board there are difficult choices to be made." Greg Clark with George Osborne
His comments came after listener Dominic Aversano started a Change.org petition urging the Duncan Smith to prove his claim his could live on £53 a week, by surviving on that amount for a year.
The link that was shared thousands of times on social media, and became the fastest growing petition the UK site has ever seen. The petition has now had a larger number of signatures than the number of votes Iain Duncan Smith received in the last election.
LIKE HUFFPOST UK POLITICS ON FACEBOOK | FOLLOW US ON TWITTER
Iain Duncan Smith has faced a battering on social media after his comments, with the night editor of the Guardian Simon Ricketts starting the hashtag #ThingsIainDuncanSmithCanDo. Suggestions included: "Do that thing Meatloaf won't do. If he had to," as well as the following: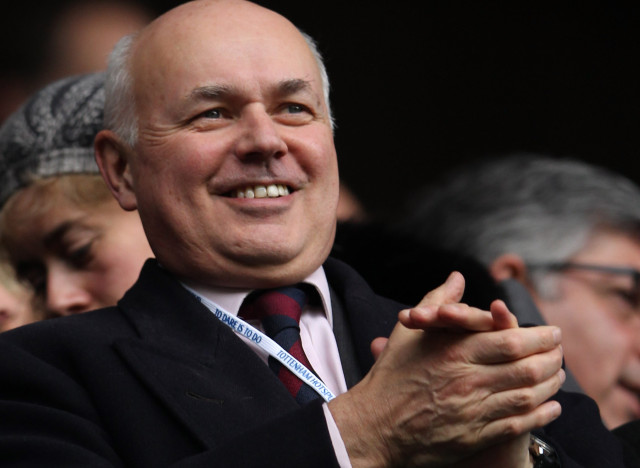 Iain Duncan Smith has faced a battering on social media
David Bennett's background has also come under examination since the BBC Radio 4 interview that prompted the challenge to Iain Duncan Smith. The Daily Mail described the 52-year-old as "a divorced father of two and a regular gambler who boasts his hobbies are 'football, poker and beer'."
The newspaper added: "Mr Bennett's Twitter account even had the profile: 'Poker player, self-employed ducker and diver'. Yesterday it was changed to 'Market trader'."
George Osborne is expected to fight back over benefit cuts on Tuesday accusing church leader critics of "depressingly predictable outrage" after they said benefit cuts were "unjust."
Defending "every line" of welfare spending is not "credible," he will say, insisting that nine out of 10 working households will be better off as a result of the welfare and tax changes.
"Because defending benefits that trap people in poverty and penalise work is defending the indefensible," Osborne will say.