Prime minister David Cameron has welcomed a landmark deal regulating the international arms trade, saying it will "ease the immense human suffering" caused by conflicts.
The United Nations General Assembly resolution backing the arms trade treaty was overwhelmingly passed by a vote of 154 to three, with 23 abstentions.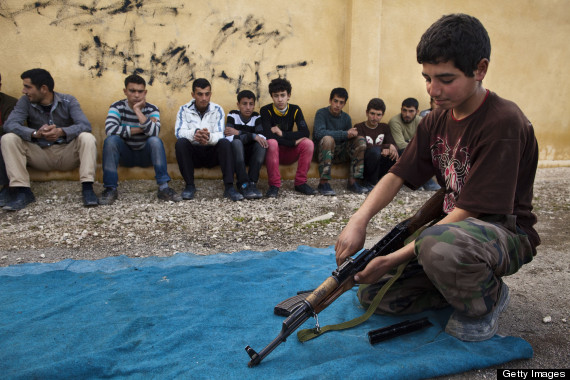 It's hoped the treaty will help stop guns getting into the wrong hands
Iran, North Korea and Syria were the only nations in the 193-member body to vote against the treaty.
Mr Cameron said: "This is a landmark agreement that will save lives and ease the immense human suffering caused by armed conflict around the world.
"It will reduce the number of illegal arms and make it harder for these to reach the hands of criminals and terrorists who are set on using them to destroy the lives of others.
"We should be proud of the role Britain has played to secure this ambitious agreement, working with international partners to secure this momentous step that will make our world safer for all."
The treaty will not control the domestic use of weapons in any country, but it will require countries to establish national regulations to control arms transfers.
The document covers battle tanks, armoured combat vehicles, large-calibre artillery systems, combat aircraft, attack helicopters, warships, missiles and missile launchers, small arms and light weapons.
Deputy prime minister Nick Clegg said he hoped that the treaty could be strengthened and expanded in future.
He said: "This treaty will bring much greater - and much needed - regulation to arms sales across the world and is a big step forward in clamping down on weapons going to rogue regimes and to the black market. It will save lives and help to combat terrorism.
"I recognise that many would like us to go further and I hope that the treaty agreed today is a baseline that can be expanded on and strengthened - and that more countries will endorse it - in the coming years."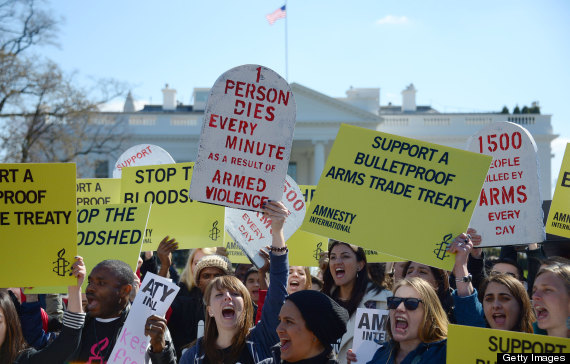 Amnesty International supporters demonstrating outside the White House recently
Foreign secretary William Hague welcomed the treaty but attacked the "cynical actions" of Iran, Syria and North Korea which prevented it being adopted by consensus last week.
He said he was proud of the leading role the UK has played in securing the international agreement.
He said: "This is an historic day and a major achievement for the United Nations. The world at last has a robust and legally-binding arms trade treaty.
"Last week, I was one of many who expressed disappointment that agreement on the treaty had been blocked by Iran, Syria and the Democratic People's Republic of Korea. But I am delighted that today their cynical actions have been successfully overcome by an overwhelming majority in the United Nations General Assembly.
"The world wanted this treaty and would not be thwarted by the few who sought to prevent the introduction of robust, effective and legally-binding controls on the international trade in weapons.
"I send my warmest congratulations to all those involved in the negotiations, including our close partners in civil society, who have campaigned for this treaty for years.
"I am proud of the role that the UK has played. We will now focus on ensuring the treaty is fully and speedily implemented."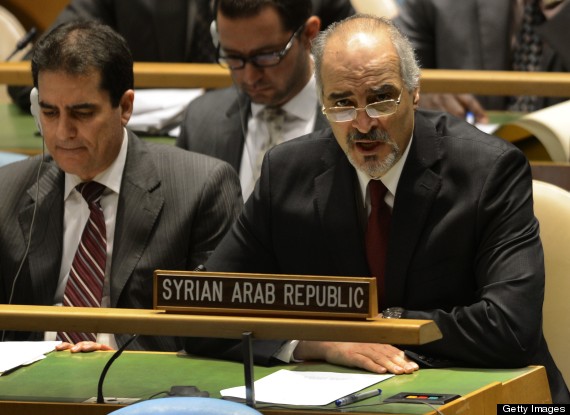 Syrian UN representative, Bashar al-Jaafari, who was one of three to vote against the United Nations agreement
Shadow foreign secretary Douglas Alexander said: "I strongly welcome the adoption of the arms trade treaty by the United Nations General Assembly today.
"The Treaty will significantly boost efforts to stem the flow of arms to some of the world's most volatile places, and will help end the transfer of weapons used to commit genocide, crimes against humanity and war crimes.
"The UK government now has an opportunity to show international leadership, and ensure a progressive interpretation of the treaty and its measures."
Pressure group Amnesty International, which has campaigned for many years to secure arms trade controls, described the agreement as 'historic'.
Kate Allen, director of Amnesty, said in a letter to members: "From today onwards, because of the Arms Trade Treaty, the world is a step closer to being a safer, fairer place.
"This campaign is particularly close to my heart. When I was in Afghanistan, I could see on the streets of Kabul the way almost every man was armed, the climate that created and the fear that ensued.
Practically every arms exporting country in the world has been selling to Afghanistan for so long that it is now awash with weapons. With so little regulation, it's all too easy for arms to fall into the hands of human rights abusers – not just in Afghanistan, but all over the world.
It was an ambitious goal, but an important one because arms are at the root of so many of the abuses we are fighting against, from torture to violence against women."
David Grimason, who lost his two-year-old son Alistair in 2003, was at the United Nations in New York when the treaty was approved.
He has been campaigning for tighter controls on the trade of weapons since his son was killed during a gunfight at a cafe in Turkey in July 2003.
The toddler was asleep in his pram when an argument broke out at a nearby table and a man opened fire, killing the boy from East Kilbride, South Lanarkshire.
David and Ozlem Grimason, pictured here in 2006, have campaigned on arms controls since their son, Alistair, was shot
Mr Grimason said: "It's been an emotional day for me. It's an overwhelming majority of nations that have recognised the need for an Arms Trade Treaty. The world recognised it was needed. We overcame the sceptics today and by such an amazing majority, it's just incredible.
"As someone who is living with the effects of gun violence, I realise the necessity for a Treaty that will restrict the flow of weapons and stop them getting into the hands of people that are going to abuse them. So for me, I recognise how much of a victory it is for humankind.
"This treaty will have a legacy and that will be a future where restricting the movement of illegal arms and guns will save lives and will prevent others from suffering violence and terror."
Anna MacDonald, Oxfam's head of Arms Control, described the outcome in New York as an "incredible moment".
She said: "The agreement of the Arms Trade Treaty sends a clear message to arms dealers who supply war lords and dictators that their time is up. They will no longer be able to operate and arm themselves with impunity. The world will be watching and will hold them accountable."