Footage of the sinkhole which swallowed a man alive as he slept as been released by the Florida authorities.
Jeffrey Bush could be heard screaming as the 30ft wide, 20ft deep sinkhole engulfed him in the dead of night in late February.
The 36-year-old's cries woke his brother Jeremy, who vainly rushed to try and save him.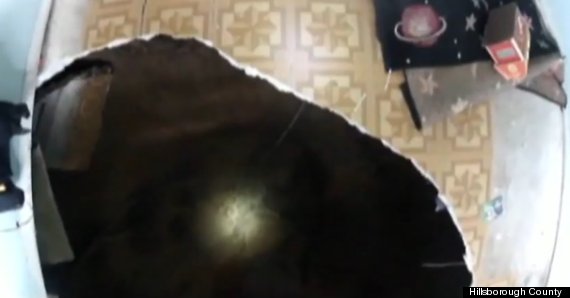 A still from footage of the sinkhole which claimed Jeffrey Bush's life
A camera placed on a pole and extended through a bedroom window has revealed the giant hole, with a spokesman for a sinkhole repair company describing it as "scary".
Jay Silver, President of Helicon Foundation Repair, told 10 News: "This is extremely dangerous, because you don't know how unstable it is. If you fell down in, you could agitate it and start it caving in more and you're sucked into the hole." Jeffrey Bush has been presumed dead after the sinkhole opened beneath his bedroom
Jeremy, who was trying to rescue his brother from the still-collapsing hole, was pulled to safety himself by Hillborough County Deputy Douglas Duval.
SEE ALSO: Golfer Survives After Being Swallowed By Sinkhole On Illinois Course (PICTURE)
After ascertaining there were "no signs of life" at the scene, the house has been demolished and the hole filled with gravel and dirt - meaning Bush's body is unlikely to ever be found.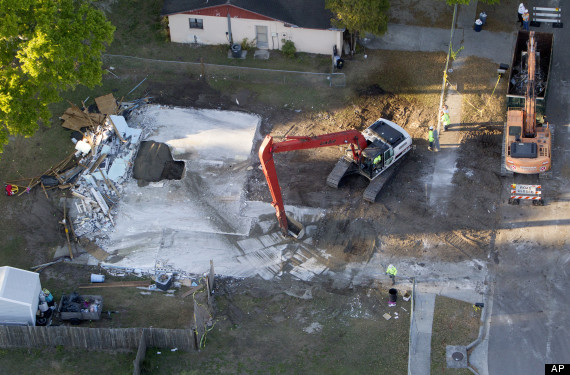 Demolition crews at the scene of the house in Brandon, Florida
Jeremy later told WFTS: "I heard my brother screaming and I ran back there and tried going inside his room, but my old lady turned the light on and all I seen was this big hole, a real big hole, and all I saw was his mattress."
He told CNN: "I know in my heart he's dead. But I just want to be here for him, because I love him. He was my brother, man."
Unease in the area continues after another sinkhole opened between two homes two miles away from the Bush family home. Jeremy Bush weeps as he describes his attempts to rescue his brother to local media
Luckily no one was hurt, WTVT-TV reported. But Florida state geologist Jonathan Arthur has warned more sinkholes are on the horizon.
He told USA Today: "As our footprint on the land increases, the likelihood we'll encounter sinkholes will increase. The activity we engage in that affects the subsurface land and water can trigger sinkholes as well."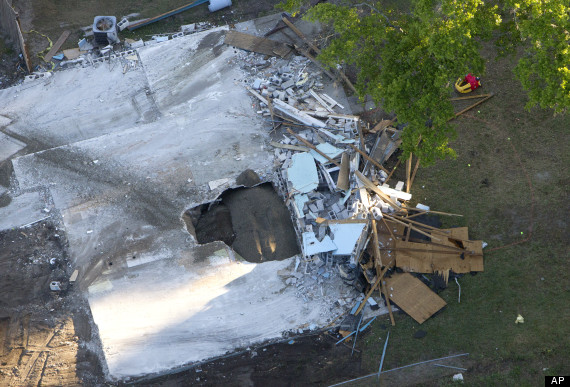 The sinkhole is being filled with gravel and dirt after attempts to retrieve Bush's body failed
Florida is comprised of limestone, an already porous rock that dissolves easily in acidic rainwater, according to the Department of Environmental Protection.
Click here for a map of Florida that classifies the frequency and severity of sinkholes.
Chris Gilbert of the Environmental Protection Agency also said that drought as well as people pumping too much water from the Floridian aquifer can lead to sinkholes.