The former girlfriend of killer Mick Philpott has told how he served just over three years in prison for stabbing her 27 times and said "this time they must throw away the key".
Philpott and his wife Mairead will be jailed on Wednesday after an eight week trial for the manslaughter of their six children in a house fire.
It can now be revealed that his history of violence began in the late 1970s when he attempted to fatally stab his ex-girlfriend Kim Hill.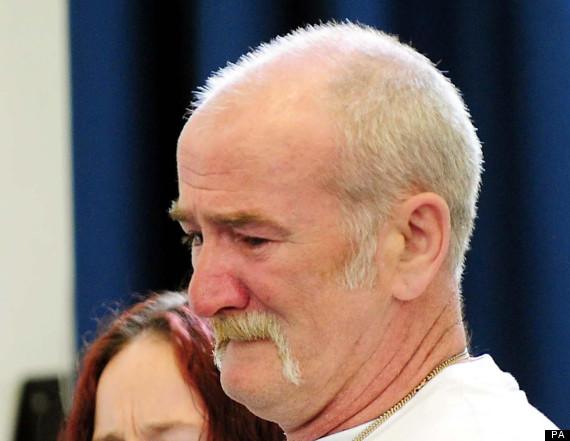 Philpott will be sentenced on Wednesday
Miss Hill, then 17, had plucked up the courage to leave domineering Philpott after an abusive relationship.
Now 51, Miss Hill told The Sun that Philpott attacked and stabbed her 27 times, and even knifed her mother 11 times when she tried to intervene and protect her daughter.
He was found guilty of the attacks and sentenced to seven years in prison for attempted murder, and handed a five-year concurrent sentence for GBH with intent for the wounding of Miss Hill's mother.
However Miss Hill told The Sun that he was released after only three years and two months.
She added: "This time they must throw away the key.
"If he had served a proper sentence back then, perhaps he wouldn't have been able to father so many kids and ended up killing the six he did.
"Being let out with what was a slap on wrist for trying to murder me made him feel invincible."
She told the newspaper how she had been staying with her mother when he launched the attack, after which he told paramedics as they treated her: "You're wasting your time with that one...she's a goner."
Jade Philpott, 10, and her brothers John, nine, Jack, eight, Jesse, six, Jayden, five, and Duwayne, 13, all died as a result of the petrol-fuelled blaze that tore through their three-bed council house in Victory Road in the early hours of May 11 last year.
There were emotional scenes in the packed public gallery at court as jurors delivered guilty verdicts for the Philpotts and co-defendant Paul Mosley, 46, who was also convicted of manslaughter.
SEE ALSO:
Many sobbed and hugged one another while Mairead Philpott's sister, Bernadette Duffy, clapped her hands and shouted out: "You murdering b*******.
"You heard me.
"I told you didn't I?
"No f***** listened to me from day one."
Philpott, 56, stood in the dock staring straight ahead with his hands clasped in front of him as the verdicts were returned.
He shook his head and his wife looked down at the floor and fought back tears while clutching a tissue in both her hands.
Before leaving the dock Philpott crossed himself and was heard to say: "It's not over yet."
During his evidence he appeared emotional and slumped forward sobbing in the witness box as the court was played the frantic 999 call he and his wife made on the night of the fire.
The trio had planned to get all six children into one bedroom at the back of the house so Philpott could play the hero and rescue them with a ladder stationed in preparation.
He had previously told police that Miss Willis was harassing him and had threatened the family.
This would pave the way for her to take the blame for the fire, he hoped.
Miss Willis, who was a bridesmaid at the Philpotts' wedding, denied ever making any such threats.
She was arrested just after the fire but quickly released with no further action.
But Nottingham Crown Court heard the plan went completely wrong.
The fire was far bigger than the trio expected and unemployed Philpott - father of 17 children from five women - climbed up a ladder at the back of the house to discover he was unable to smash a large enough hole in the bedroom window.
The intense heat and thick black smoke also stopped him getting to the children.
Firefighters found the youngsters' lifeless bodies in each of the three upstairs bedrooms.
Part of Philpott's motive might also have been to get a bigger council house, prosecutors said.
Philpott, who was known locally as Shameless Mick for his lifestyle, became renowned after television appearances on The Jeremy Kyle Show and in a documentary with former government minister Ann Widdecombe.
The killers, who were found with petrol traces on their clothing after the fire, will be sentenced at 10am.