North Korea's army has been given final approval for a 'merciless' strike against the USA as tensions between the two powers and South Korea continue to rise.
Pyongyang also said that war could break out in the Korean peninsula as soon as Wednesday or Thursday, adding that the use of nuclear weapons was an option. US stealth fighter jets have been patrolling South Korean airspace during military exercises
"The merciless operation of [our] revolutionary armed forces in this regard has been finally examined and ratified," a statement published by the official North Korean news agency said.
Pyongyang's statement followed a US announcement that it would be sending a missile defence system to Guam to defend it from North Korea in response to what defence secretary Chuck Hagel described as a "real and clear danger".
North Korea has threatened missile attacks on the USA's Pacific bases, including in Guam, a US territory in the Pacific, as well as a nuclear strike on the United States itself - possibly Hawaii - since UN sanctions were imposed following the country's third nuclear weapons test in February. Kim Jong un's regime has embarked on much threatening rhetoric in recent weeks
"Some of the actions they've taken over the last few weeks, present a real and clear danger," Hagel said at the National Defense University in Washington.
"We take those threats seriously, we have to take those threats seriously.. I hope the North will ratchet its very dangerous rhetoric down," he added.
Hagel said that America's responses had been "measured, responsible, serious" but stressed that Washington was actively seeking to lower tensions in the region.
"We are doing everything we can, working with the Chinese, others to defuse that situation on the peninsula," he said.
On Tuesday, secretary of state John Kerry condemned North Korea's rhetoric as "unacceptable," and said the US would defend its allies - South Korea and Japan - from any threat from the North and soon after Hagel addressed the audience at NDU, the Pentagon announced it was deploying a Terminal High Altitude Area Defense system (THAAD), which includes a truck-mounted launcher, interceptor missiles, tracking radar and an integrated fire control system to Guam.
In a statement, the Pentagon said the missile system would be moved to Guam as a "precautionary move to strengthen our regional defence posture against the North Korean regional ballistic missile threat". South Korean troops relax during exercises against possible attacks by North Korea near the border
"The United States remains vigilant in the face of North Korean provocations and stands ready to defend US territory, our allies, and our national interests," the statement added.
In response to North Korea's recent sabre-rattling, the US has flown stealth fighters and nuclear-capable B-52 bombers over South Korea while the USS John McCain, an Aegis-class destroyer which can intercept missiles, has been stationed off the Korean peninsula with another destroyer, the USS Decatur, en route to the region.
On Tuesday, North Korea's leader, Kim Jong un, ordered the reopening of the facilities at its main Yongbyon nuclear complex, including a reactor mothballed in 2007. When fully running, the reactor is capable of churning out one atomic bomb worth of plutonium - the most common fuel in nuclear weapons - a year.
This was followed on Wednesday by North Korea imposing restrictions on South Korean workers from entering the Kaesong zone, a jointly run industrial area north of the border. According to Reuters, the South Korean workers in the zone were allowed to leave, while those attempting to enter the park were denied access.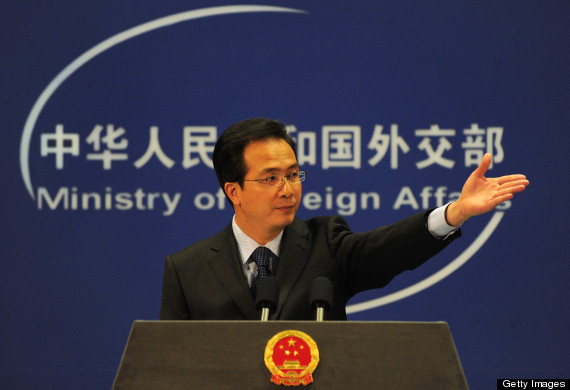 Hong Lei: "Denuclearisation is in all our joint interests"
This provoked China to call for 'calm and restraint' whilst also expressing its 'serious concern' over the escalating crisis on the Korean peninsula.
Speaking at a press conference on Wednesday, Hong Lei, the Chinese foreign minister, said his government was in contact with both Korean states, as well as the US, and emphasised that "reconciliation and co-operation between North and South" was essential for peace and stability in the region.
Meanwhile, David Cameron issued a stark warning against any move to abandon Britain's Trident deterrent in the face of the growing nuclear threat from North Korea and Iran.
The prime minister said it would "foolish" to leave the country defenceless at a time when the "highly unpredictable and aggressive" regime in North Korea was developing ballistic missiles which could eventually threaten Europe.
Writing in The Daily Telegraph, Mr Cameron said such "evolving threats" underlined the need for the UK to maintain the ultimate deterrent.
"We need our nuclear deterrent as much today as we did when a previous British government embarked on it over six decades ago. Of course, the world has changed dramatically. The Soviet Union no longer exists. But the nuclear threat has not gone away," he said.
"In terms of uncertainty and potential risk it has, if anything, increased."