North Korea has banned South Korean workers from entering the Kaesong zone, a jointly run industrial area north of the border as tensions on the peninsula escalate. According to Reuters, the South Korean workers in the zone have been allowed to leave, while those attempting to enter the park have been denied access.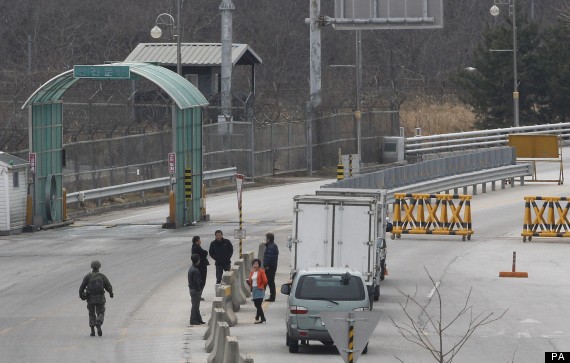 South Korean drivers wait to leave for a joint industrial complex of North Korean city of Kaesong
The unexpected move by Pyongyang – the zone filters more than $2billion each year from the South to the North – follows a near daily escalation in rhetoric, culminating over the weekend with the state news agency declaring that a state of war existing between the country and its neighbour to the South, and that "all issues raised between the North and the South will be handled accordingly".
The KCNA statement ominously added: "The long-standing situation of the Korean peninsula being neither at peace nor at war is finally over."
On Tuesday, Kim Jong un ordered the reopening of the facilities at its main Yongbyon nuclear complex, including a reactor mothballed in 2007. When fully running, the reactor is capable of churning out one atomic bomb worth of plutonium — the most common fuel in nuclear weapons — a year.
The Kaesong zone is home to more than 100 factories, employing around 50,000 North Korean workers and several thousand South Korean managers.
A spokesperson for the South Korean Unification Ministry said: "South Korea's government deeply regrets the entry ban and urges it be lifted immediately," adding: "Ensuring the safety of our citizens is our top priority and the South Korean government will take necessary measures based on this principle."
Pronouncements from the North have become increasingly belligerent in recent weeks, with threats to attack military bases in the South of the peninsula, as well as US bases in Guam and Hawaii, and even the US mainland. Kim Jong-un's forces have also carried out military drills, with pictures of rockets launchers and amphibious landings issued by the official state news agency, although the veracity of some of the pictures has been called into question. Indeed, whether North Korea has the capability to attack US bases, let alone the mainland remains doubtful, though the threat to the South is genuine.
Last week, North Korea's military was placed on a "high alert" status; South Korea is now on a similar footing, increasing the chances of a cross-border exchange or a mishap leading to escalation. Whether Kim Jong-un would risk starting a hot war remains unknown, even though the two states have been in a technical state of war since 1953, with the Korean War ended by an armistice, not a peace treaty.