Customers of energy giant SSE have been urged to seek compensation from the company after Ofgem announced it is to be fined a record £10.5 million for "prolonged and extensive" mis-selling.
Chancellor George Osborne described the penalty - the largest ever imposed on a supplier - as "quite right" and said he would like to see the proceeds of future fines given to customers rather than the government. Ofgem condemned SSE for 'misleading and unsubstantiated statements'
Energy watchdog Ofgem said it found "failures at every stage of the sales process" across SSE's telephone, in-store and doorstep selling activities, adding that the level of the fine reflected the seriousness and the duration of the mis-selling, as well as the harm caused to customers and the likely gain to the company.
SSE provided "misleading and unsubstantiated statements" to potential customers about prices and savings that could be made by switching to SSE, according to Ofgem.
Management at SSE - one of Britain's "big six" energy suppliers - failed to pay enough attention to compliance, which allowed the mis-selling to take place, added Ofgem.
Mr Osborne told ITV: "SSE have treated their customers badly and it's quite right they've got this big fine.
"But I'd like to see changes, first of all so that in future these fines can go back to the customers rather than to the government, and second so that these energy companies are forced to put families on the lowest tariffs to make sure people get the maximum help with their energy bills."
Ofgem does not yet have powers to require companies to award consumer compensation, so the fine will be paid to the Treasury.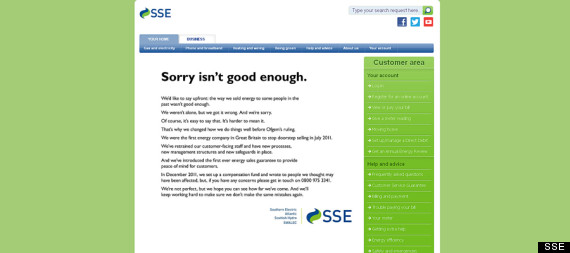 SSE published this apology on its website
Both Which? and Consumer Focus said they also supported Ofgem's case for greater powers to benefit consumers directly.
Adam Scorer, director of policy at Consumer Focus, said: "This is not a case of one bad apple or one rogue sales team. The problems at SSE affected the whole direct selling operation and represent a fundamental failure at one of our biggest energy companies.
"Other companies have also broken direct selling.
"This has been a stain on the energy market since the introduction of competition. While the situation has got better and many companies have decided to end doorstep sales, the recent history casts a long shadow and Ofgem are right to take this scale of action. Energy minister Michael Fallon said he had 'rarely seen a worse case of consumers being misled so badly

'
"Consumer Focus fully supports Ofgem's case for greater powers to benefit consumers rather than the exchequer."
Which? executive director Richard Lloyd said: "It's absolutely right that Ofgem has punished SSE for their completely unacceptable past practices. With scandals like this it's no wonder that less than a quarter of people say they trust energy companies.
"This record fine sends a clear warning message to all energy companies, but will be too little too late for many customers who were mis-sold.
"While SSE have contacted customers and have made funds available to compensate those affected, we want the government to go further and ensure that the regulator has the power to force energy companies to proactively contact and compensate those customers who were mis-sold."
Energy Minister Michael Fallon said: "I have rarely seen a worse case of consumers being misled so badly.
"With rising energy prices, and multiple tariffs to contend with, consumers deserve the clearest, fairest and best possible deal.
"The government is already acting through the Energy Bill to give Ofgem the teeth it needs in future to get compensation to those directly affected.
"And we're using new legislation to require suppliers to simplify their tariffs and get rid of historic poor deals."
SSE, which has around 10 million domestic customers in the UK, stopped doorstep selling in July 2011, but Ofgem said failures continued over the telephone and in store. SSE said it had already paid out more than £400,000 to several thousand customers
SSE said it was "deeply regretful that breaches occurred and apologises unreservedly to any customers who have been affected by sales activity which ran counter to the values and culture of the company".
It insisted its sales practices have been overhauled since Ofgem launched its investigation, but admitted that it did not move fast or far enough.
As well as halting all doorstep selling, SSE has also brought all domestic telesales in-house, launched a new training programme for sales staff and set up a post-sales verification process.
The group has restructured, creating a retail division and hiring externally to head up the new team, with a new director of sales also brought on board.
Bonuses were withheld for its three executive directors in 2012 as a result of the mis-selling breaches, it added.
SSE set up a £5 million fund to cover mis-selling compensation claims and sent out 970,000 letters to existing customers last year alerting them to its compensation process.
It said it had already paid out more than £400,000 to several thousand customers.
Any customers who believe they have been mis-sold to by SSE should contact its dedicated line on 0845 0707 388.
Ofgem has now finished two of four mis-selling investigations launched in 2010, but inquiries are still ongoing relating to Scottish Power and npower from this time, while it launched an investigation into E.ON's energy sales practices last April.