The family of April Jones will release pink balloons on Thursday to mark what would have been the missing girl's sixth birthday.
Friends and well-wishers around the world are being urged to do the same as a gesture of solidarity.
The little girl who had cerebral palsy, was abducted from Machynlleth town's Bryn-y-Gog estate on October 1. April went missing on 1 October 2012
She had been playing out on her bike with friends on the evening in question as a treat for getting a glowing school report.
The balloon appeal was made on Facebook by Mel Moon, April's cousin, who lives in Adelaide, Australia.
In a statement she wrote: "On April 4, between 6.30-7pm we would like people to get together and let off balloons for April wherever in the world they may be.
"Coral, Paul and family will be letting balloons off on Bryn-y-Gog green around 6.30-7pm if people wish to join them.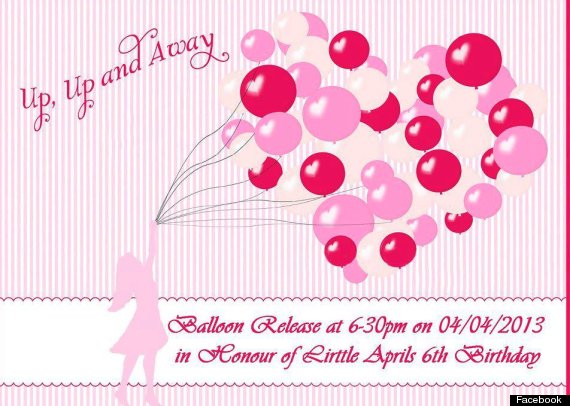 A Facebook image inviting people to release balloons in memory of April
"They would like if people could tie a note to say where they're from and their names to see how far they may go."
Mark Bridger was arrested the day after the schoolgirl vanished and charged with the abduction and murder of April and perverting the course of justice by disposing of her body.
He denies the charges and is due to stand trial at Mold Crown Court on April 29.
Dyfed Powys Police have announced the search for April's body will be completed by the end of the month, though: "There will of course remain a reactive team of specialist officers available to respond to any new information that is received."
Comments are closed for legal reasons.