John Terry says Paolo di Canio is a "nice guy", as Sunderland continue to be bombarded with criticism for overlooking the Italian's political views.
Di Canio declared in 2005 "I'm not racist, I'm a fascist", only to this week claim he does "not support the ideology of fascism" after a storm erupted in the wake of his appointment.
Former foreign secretary David Miliband resigned from his role as the Black Cats' vice-chairman in protest and a number of fans have vowed to boycott the club.
Chelsea captain Terry, who was memorably bamboozled by Di Canio in Charlton Athletic's 4-2 win against Chelsea on Boxing Day in 2003, however spoke highly of his one-time opponent ahead of Sunderland's trip to Stamford Bridge on Sunday.
The Standard quotes Terry as saying: "I played against him when he was at Charlton. His movement was fantastic and I found he was just a real nice guy on the pitch. He always spoke to me after games and said 'listen, maybe you should do this and do that' which was really nice at the time.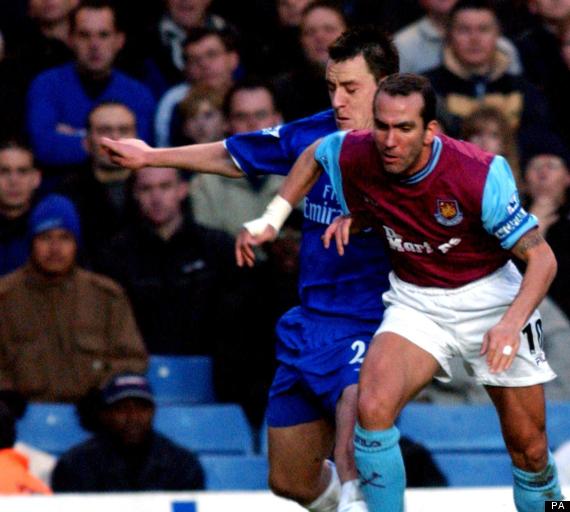 Di Canio and Terry vie for the ball during an FA Cup match in 2002
"What did he say? Just certain things. When he made certain movements I should maybe have been tighter and stuff like that. I was only young at the time when I was playing against him when he was at West Ham and sides like that.
"From an opposition player it was quite nice to get that literally two-word sentence. A two-word sentence was enough and something I learned from.
"He always gave a battle. If there was a little tussle he'd get up and shake your hand after and that kind of thing. So very fair, very passionate, as we've seen with his character, and his ability was fantastic. He was a credit and I can only speak highly of him."
Sunderland are just one point above the relegation zone and after the weekend's visit to west London they face Newcastle United, Everton and fellow strugglers Aston Villa.
Martin O'Neill was sacked last Saturday evening following the Mackems' 1-0 defeat to Manchester United earlier in the day. Sunderland have taken just three points from their last 24.