Grand National winner Auroras Encore has been welcomed at his local pub following his triumphant return home.
The 66-1 outsider visited the Dick Hudsons pub, near his West Yorkshire stables, where he was greeted by customers, staff and other well-wishers.
It turned out to be another dramatic day for winning jockey Ryan Mania who was airlifted to hospital after a fall at Hexham just a day after his moment of glory.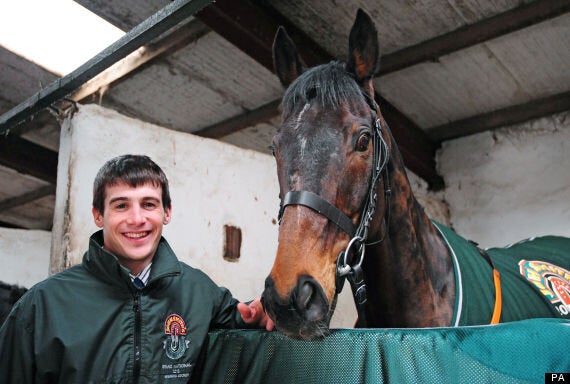 The 11-year-old is the first Yorkshire winner of the world's most famous steeplechase for 53 years
With Mania engaged elsewhere, it was assistant trainer Ryan Clavin who led the horse down to the pub from his yard at Craiglands Farm, near Bingley, this morning.
But the jockey had earlier found time to pose with the horse at the stables earlier, along with trainer Sue Smith and her husband, the champion show-jumper Harvey Smith.
Speaking before Mania's fall, Mrs Smith said: "We're past the stage of partying all night, so we made sure we got to bed.
"The horse has come out unbelievably well this morning. His legs are sound and he's quite chirpy considering he raced for nearly four-and-a-half miles."
Mrs Smith said she had been to the pub last night for dinner with the owners and she thought Auroras Encore enjoyed his trip there today, despite getting a bit restless after a morning in the limelight.
She said the horse was due a long summer holiday and then, she hoped, another crack at the Grand National next year.
Mrs Smith described how she and her staff have battled against the snow and frost for last few weeks to get Auroras Encore ready.
But, despite evidence of snow still at the yard this morning, she said a recent upturn in the temperatures helped his chances.
"The snow is still here from two weeks ago," Mrs Smith said.
"It held us up pretty bad, we couldn't get very far and we've had frosts every morning, it was desperate.
"We had a racecourse gallop at Wetherby nearly two weeks ago and I took him to school at Malton on the Friday.
"Last Tuesday, Harvey managed to clear the gallops and we got a real good bit into him - that was the first time they'd been clear for over a week.
"In the end the ground came in his favour and that was the key."
The last Grand National winner trained in Yorkshire was Merryman II in 1960 by Middleham's Neville Crump.
Mrs Smith said: "I hope this is a boost for northern racing.
"If there's anyone that bangs the drum for the north, Harvey never leaves them alone."
Harvey Smith said winning the Grand National was "a pinnacle of a career".
And he revealed winning the race was a childhood ambition of his: "When I was an 11-year-old boy I broke my arm and I was in Keighley hospital where they gave me anaesthetic.
"I came round and the nurse gave me a sick bowl, I immediately put it on my head.
"They all asked what I was doing and I said 'I've just won the Grand National'."
He too was speaking before Mania's fall at Hexham.
Popular in the Community