Updated: 12 April 2013 information from race organisers
Tension in Bahrain is rising again as the country prepares for next weekend's Grand Prix, 12 months after Formula One caused a worldwide furore by staging a race in the Gulf kingdom.
Anti-government protests are expected to be more visible than last year in Bahrain
The pressure group claimed that 20 people, including prominent anti-government protest leaders, have been arrested, by security officers who have failed to produce arrest, search, or seizure warrants although these are required by Bahraini law. Officials have also denied those detained access to legal assistance during their initial formal interrogation by prosecutors.
"This latest crackdown and the way it's being carried out raises new questions about the Bahraini authorities' commitment to reform," said Sarah Leah Whitson, Middle East director at Human Rights Watch. "These raids and detentions suggest that officials are more concerned with getting activists out of circulation for the Formula 1 race than with addressing the legitimate grievances that have led so many Bahrainis to take to the streets."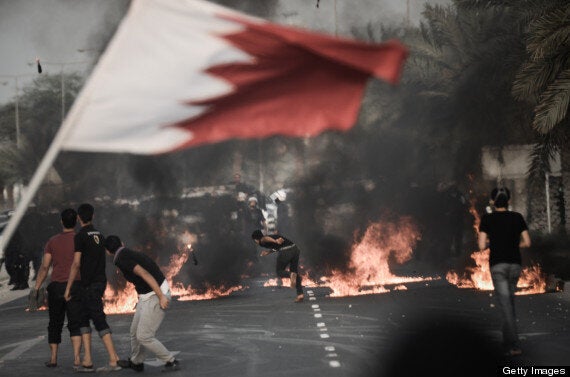 Bahraini anti-regime protestors throw petrol bombs towards riot police
The Bahrain government claimed that security forces were responding to an "an escalation of extremely riotous behavior".
Talking to The Huffington Post UK, Salman Aljalahma from the Information Affairs Authority, said that the violence was an attempt "to destabilize the country".
"Unfortunately, many have resorted to violence as a means of expressing an opinion endangering the lives of the rest of the population who do not share the same view," he said.
"When the country approaches a momentous occasion, we see an increase in citizens breaking the law and engaging in violent riots to garner international attention. Consequently, security forces have been deployed proportionally as and when required to secure the safety of the majority of the population.
"It is important to remember that reforming the country requires a communal effort, where citizens need to assist the government in stabilising the environment, instead of provoking an already volatile situation."
Raids are not unusual in Bahrain but HRW sources say that they have been ratcheted up this month against activists living near the BIC and those 'who have led anti-government protests in the past'.
Police are believed to have carried out about 30 raids in Dar Khulaib, Shahrakan, Madinat, Hamad, and Karzakkan, towns located close to the F1 circuit and the roads leading to the capital, Manama.
As happened last year, protests have been stepped up as the high profile F1 race nears with a number of serious injuries reported including a 16-year-old boy, Hussain Khadem, who was shot in the head with a teargas canister by security forces during a protest in Sitra.
The Bahrain Center for Human Rights has also received reports of house raids by 'masked men in civilian clothes' and 'arbitrary arrests' in villages. The Centre said that in the first week of April, 10 youths had been arrested. They highlighted the case of Mohammad Abu-Zahaira, who was taken by security forces without an arrest warrant and whose whereabouts was not known for three days, his family says.
S Yousif Almuhafda, head of the center's monitoring section, said he tried to see the youth in hospital but was denied access:
He also visited Hussain Al Halal who said he was shot in the head with a tear gas canister, posting this photo of the injured man from his hospital bed:
Almuhafda also said that the Hussain alleged that police offcies in Sitra "asked him to say he was hit with an iron rod in front of the camera", which he refused to do.
The Bahrain government has denied that any such arrests have been made and the Ministry of the Interior claims Hussain was attacked by 'terrorists', tweeting:
The ministry's website said there had been "an unprovoked attack by a gang of thugs on the Sitra police station on Saturday evening. The thugs used iron rods, Molotov cocktails and stones.. During the attack, two thugs were injured by fellow rioters and were taken to hospital."
Mr Al AlJalahma told the Huffington Post UK that the 16-year-old was injured when hit by a rioter during the attack on the Sitra police station where activists used iron rods and petrol bombs. He added that Khadem was immediately taken to hospital for medial treatment where he is in a stable condition.
Responding to accusations of increased arrest, Information Minister Sameera Rajab told Reuters: "We discredit any news of such arrests in recent days or even months.
"Nobody could be arrested without a warrant, this doesn't happen in Bahrain. If there is any action against peace and security, it must be dealt with according to law."
"I haven't had any negative reports from anybody there," the F1 boss said.
"Somebody who actually lives there came to see me yesterday and said everything's very normal.
"I think they (both sides) are talking now anyway... so I don't think they'll upset the talks by making protests. It didn't help them last year, so if they had any brains they'd just get on with their talks."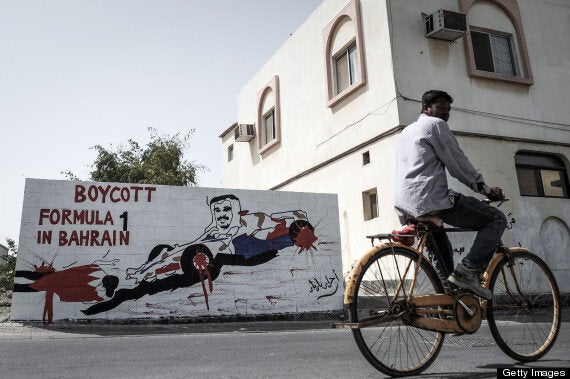 Protesters near the race circuit have been targeted, human rights activists claim
The protests and violence have not a detrimental effect on ticket sale for the race though. A representative of BIC told HuffPost UK that grandstand tickets had risen by 15% on last year and were in line with 2010, one of Bahrain GP's busiest year when nearly 100,000 people attended over the three days. Significantly, BIC expects the corporate boxes to be full.
There will be 800 security staff on duty over the weekend made up of volunteers and guides but BIC said the number was not an increase on last year and that organisers were preparing for the Grand Prix as normal.
"The preparations we make for the race are the same as in every year," the spokesman said, adding: "BIC maintains regular contact with both the FIA and Formula One Management, as you would expect from any F1 race organiser. Discussions cover all areas of preparation for the race."
Ecclestone and F1's governing body, the FIA, came under severe pressure and criticism for holding a race last year in the face of widespread protests and police crackdowns. The 2011 race was cancelled because of the deaths of 35 people when a Shi'ite-led pro-democracy uprising was put down.
"Let it be clear to those who attempt to cause harm to our secure and peaceful society that they will not be allowed to rejoice with their evil intentions," the prime minister told an audience of business and media figures. Bernie Ecclestone (left), pictured in 2012 with Bahrain Crown Prince Sheik Salman bin Hamad Al Khalifa, said everything in the country was 'normal'
In conjunction with other groups, ADHRB has sent a letter to all the F1 drivers asking them to pledge support for a 'free and just Bahrain' by publicly condemning the ongoing human rights abuses.
ADHRB director Husain Abdulla said: "We hope that participants of the Bahrain Grand Prix will take the time to learn about the ongoing human rights abuses and arbitrary detention of prisoners of conscience.
"Although the President of Formula One, Bernie Ecclestone, said that he received reports that everything is back to normal in Bahrain, it is clear that his information comes from unreliable sources.
"The truth is that the Bahrain government has been engaged in many of the same abuses that the international community condemned it for after Bahrain's security forces launched a brutal crackdown against peaceful protests in 2011."