Saracencs have confirmed they will hold a minute's silence for Margaret Thatcher before their Aviva Premiership match with Worcester Warriors on Saturday.
The Football Association and the Premier League have already confirmed football clubs are not obligated to pay their respects to one of Britain's most divisive leaders, however Saracens announced they "will respect the memory of Baroness Thatcher".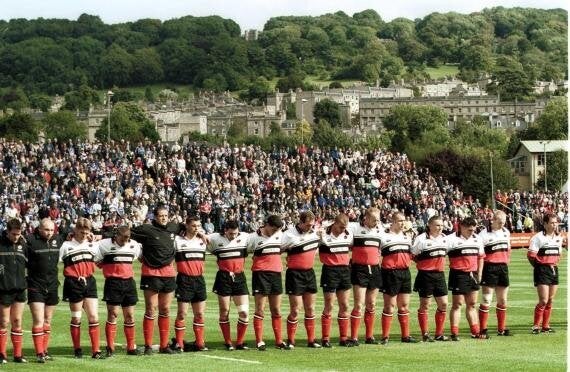 Saracens observe a minute's silence for 9/11 victims at Bath in 2001
Dave Whelan, the Wigan Athletic chairman, and his counterpart at Reading, Sir John Madejski, have also called for football to hold a minute's silence in respect to the late Margaret Thatcher, but a tribute is unlikely.
Whelan, a Conservative Party supporter, said: "We owe Mrs Thatcher a minute's silence," Whelan told the BBC. "It is not my decision, it is for the FA to decide, but I would be in favour of wearing an armband out of respect to Mrs Thatcher. We have to say thank you very much for the services the former PM has given us."
He was backed by Madesjki, who added: "We have got to appreciate that Margaret Thatcher was a world leader who did so much for this country. So much that she deserves a minute's silence."
Madejski's suggestion comes with Reading due to entertain Liverpool on Saturday - two days before the anniversary of the Hillsborough disaster.
Although the Hillsborough Independent Panel report did not detail a "smoking gun" linking Thatcher to the establishment's cover-up of the death of 96 Liverpool fans, she remains reviled on Merseyside. Thatcher was conspicuous by her absence when, after Liverpool supporters were exonerated of any blame in September, she did not issue an apologetic statement.