The chief scientist at the Met Office has called an urgent meeting to discuss the effects of climate change, saying the melting of the arctic may be causing the UK's recent spate of perishing weather.
After a winter in which temperatures dropped as low as −15.6C, Dr Julia Slingo told ITV News global warming may be responsible for the extreme weather, saying she would be convening with top scientists to try and understand how the arctic melt was affecting the UK.
She told the broadcaster: "If this is how climate change could manifest itself, then we need to understand that as a matter of urgency
"We are beginning to think that our climate is being disrupted by the warming of the artic that we've observed very dramatically since 2007.
"It definitely seems like the warming of the arctic is "loading the dice" over cold dry winters." Britain had the coldest March for 50 years
The UK's position makes it particularly prone to arctic warming, Dr Jennifer Francis, a research professor at the Institute of Marine and Coastal Sciences, told ITV News.
As Britain experienced freezing cold weather and snow, with thousands of homes across the UK without power, the government's outgoing chief advisor warned last month that climate change will bring greater extremes.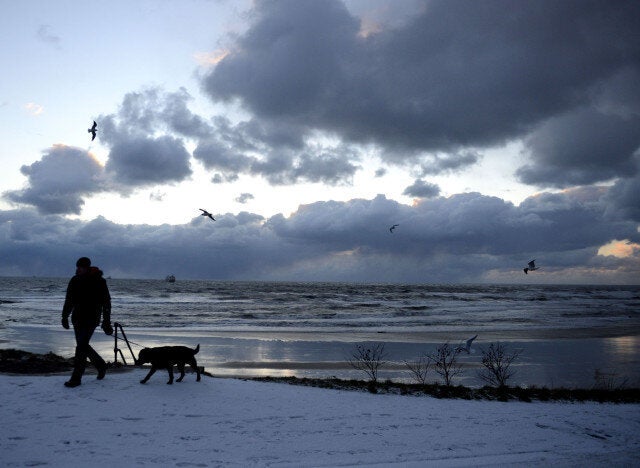 The cold winter has been the topic of conversation for months
He told BBC Breakfast :"I think you only have to look at the last few years to see how that is actually starting to manifest itself even in the UK."
"In a sense we have moved from the idea of global warming to the idea of climate change, and that is rather important - yes, indeed, temperatures are increasing but the thing that is going to happen is that we are going to see much more variability in our weather,"
Sir John said there were "massive problems" in the world of food, water and energy security as the global population increases, all of which would be exacerbated by climate change.
Even if effective action was taken now on global warming, he said there would be "significant" climate change over the next 20 to 25 years as results of past global emissions.
Last March was the coldest in the UK since 1962, weather experts confirmed.
Statistics from the Met Office showed that from 1 to 26 March the UK mean temperature was 2.5C (36.5F), which is three degrees below the long-term average.
This made it the joint fourth coldest in the UK, in records going back to 1910.