George Clooney can rest easy - he's evidently one of the few film-makers working today that controversial director Oliver Stone doesn't have a problem with...
"I liked 'Michael Clayton', 'Syriana'," says Stone, referring to two of Clooney's recent political dramas, "but most stuff is deeply conservative."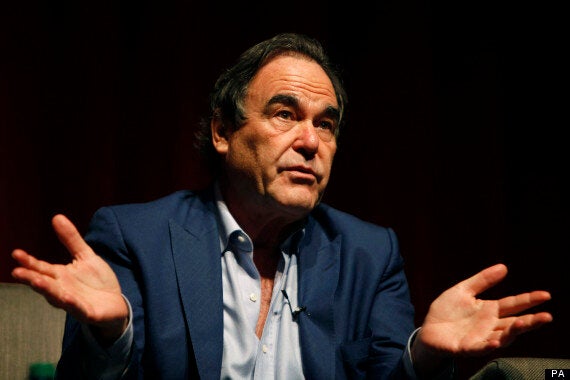 Oliver Stone - different medium, same battle...
"Even when James Cameron made that superb film 'Avatar', he was making as clear a statement as I have ever seen about the US military being the bad guy, and he said, "I don't make political films like Oliver Stone. I had no intention of criticising the empire.' Well, James, excuse me, what are you smoking? I love you as a film-maker, but don't play that game.
"My job is drama. I have to tell a story with tension and make it exciting to watch, but if I'm dealing with political content, I don't want to get on the wrong side of history, and I won't."
I mention I've just come from watching the latest America-takes-on-evil blockbuster 'Olympus Has Fallen', starring Morgan Freeman with its Korean enemies, and a big White House-based battle for victory. Stone sighs.
"Morgan Freeman sadly should not... I would not take the money if I were Morgan, whom I respect, for espousing a false enemy." And he's on a roll.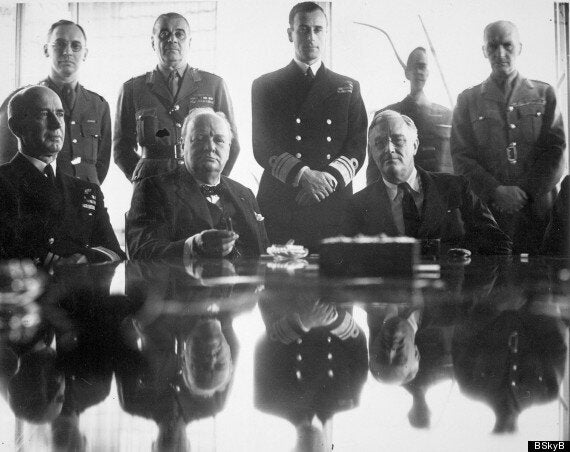 Churchill and Roosevelt's meeting changed the direction of World War II, told by Stone in his new 10-part documentary series telling 'The Untold Story' of the 20th century
"By the way, a recent James Bond film was ridiculous too. They made Cuba the home of chemical warfare and it becomes a whole issue when they go to Cuba. And, in another film, Mr Stallone, who is an equal opportunity offender, managed to make a film that made $100m, saying that Chavez was a bad guy with a red beret.
"This is very dangerous toxic material that you're putting into the body politic. It's like you're polluting the waters. I hope to god there is some justice in this world to bring back to these film-makers some sense of what they did."
While all this money has been made in Hollywood, Stone has not been idle. Instead, he's put his back into a 10-part documentary series, telling the "untold" story of 20th century US politics. It's been a five-year labour of love, to "re-examine what you thought you knew".
Stone has apparently been longtime infuriated by what is being taught. "It's in my daughter's text books... the US successfully ended WWII with the bomb, and the Japanese had to be defeated that way. because they would never surrender."
For Stone, it's all about the atom bomb, the dropping of which ended WWII. "Once you deal with the bomb, you can never come back, it's like opening Pandora's Box. Once you start to understand that the bomb was not necessary to drop, it opens up the next question... who started the cold war? What was the bomb about? Was it about the Russians, or really about the Japanese? I think it's like a good Agatha Christie."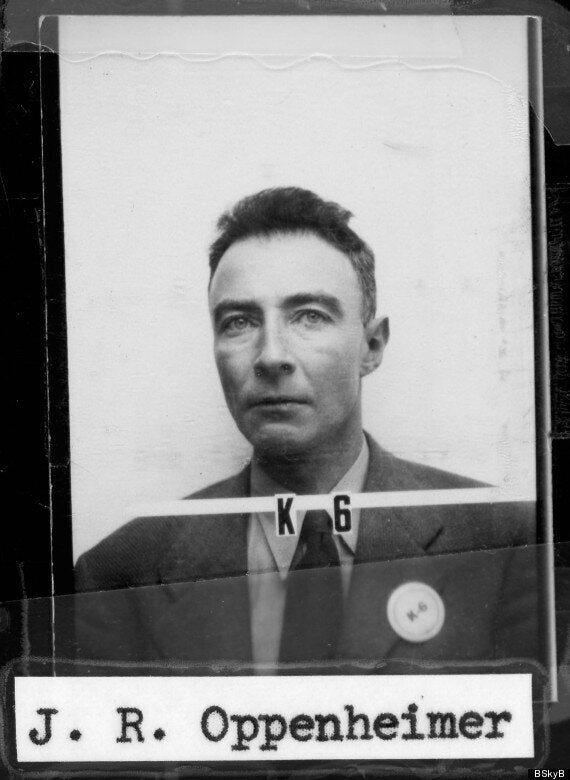 For Stone, everything starts, and then starts again with the atom bomb, devised by Robert Oppenheimer (above)
Stone has been happy to tell what he considers the 'untold story' in many of his films, including 'Born on the Fourth of July', 'JFK' and 'Nixon', but this wasn't borne out of activism - in fact, if anything, it was the other way round...
"My advocacy comes from the films. I avoided activism after Vietnam, I wasn't sure about my positions, I was muddled. I always expressed interest in it, but I never understood emotionally how I was attached to the landscape. I had gone to Vietnam because of politics, but you don't put two and two together.
The average soldier goes to fight for his country, to fight communism, you don't think too much about that, you got a couple of medals, you feel good about yourself, you feel kind of lousy because you some people got killed who you didn't think should be killed. It comes from idealism.
"My life has evolved, my knowledge has deepened, I learned a lot in the past five years, I'm grateful for that. I knew a lot, but not like this."
Does increased knowledge equal deeper anger? He shakes his head.
"Anger can only take you so far, you can't keep it up, it wears you down. I think you need consistency, intellectual curiosity, stamina, all of these things come into play. Anger is not a working emotion, it's perhaps a deep-seated feeling of conscience."
And, with all the stories he tells in 10 chapters of documentary belying the myth that America has earned its position of message-bearing to the world, is he still a patriot? This time he nods.
"A patriot is willing to dissent from his country's majority with a vigilante viewpoint, and when it's wrong, it's wrong. So, yes. We stand for speaking out and being different and saying we have sold out to the conformity and fear, and the usual suspects."
If, as Stone sees it, there are people willing to uphold the myth for their own ends, to whom does he give credit for standing up and speaking out?
"Gorbachev... Kruschev... Kennedy doesn't get enough credit for saving the world, by saying no to the military. Kennedy had deep guts to say no, and I think he paid the price for it..."
Tempting as it is to follow Oliver Stone down a labyrinth of conspiracy, I'm keen to end positively, so I ask where his beacons of hope are to be found.
"Whenever I speak to kids in colleges, I think there's a bulb going off, and I hope there's a Martin Luther King out there, willing to speak out for good in this world. You always hope that you're going to hit that button. There are a lot of smart people. Lot of dumb people, but also smart people. You've got to root for evolution."
In the case of Mr Stallone and co, too? He chuckles.
"We should make Stallone watch our series with clockwork orange eyes."
Oliver Stone's Untold History of The United States starts on Friday 19 April at 9pm on Sky Atlantic HD