A total of 27 football fans have been arrested and three police officers injured after violence erupted following a derby match in Newcastle.
Missiles were thrown at police as a group of Newcastle fans tried to confront Sunderland supporters in Central Station, Newcastle, after the home side's 0-3 defeat at St James' Park.
One officer was taken to hospital for treatment, Northumbria Police said.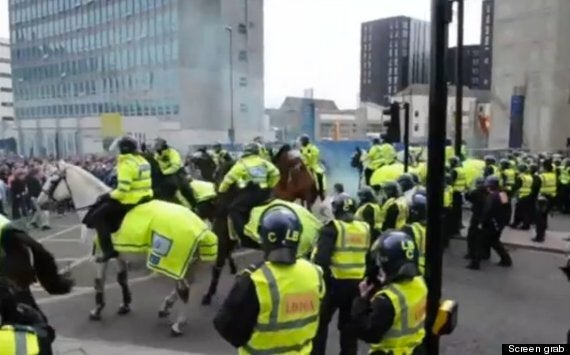 Officers attempting to disperse Newcastle fans after the game
A total of 14 men were arrested after Millwall fans began fighting with each other during the second half of their 2-0 defeat by Wigan, in disturbing scenes which left youngsters in tears and were witnessed by millions on television.
Scotland Yard said 12 of those held were Millwall supporters and two Wigan fans.
Northumbria Police said they were pelted with missiles during today's trouble in Newcastle.
A force spokeswoman said: "The most serious incident involved a group of Newcastle fans in Central Station attempting to confront Sunderland supporters, but they were intercepted by officers from British Transport Police.
"During this incident missiles were thrown at the officers, which resulted in three injuries to officers - one of them requiring assessment at hospital."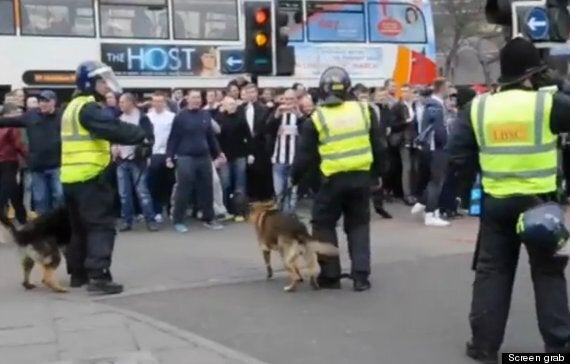 Violence erupted after Newcastle were beaten 3-0
Police said they received reports of minor incidents, including the release of smoke canisters, before and during the match.
It is believed that Newcastle fans were also involved in a series of sporadic incidents of disorder in the city centre following the match, the spokeswoman said.
Chief Superintendent Steve Neill, of Northumbria Police, said: "The vast majority of fans were well behaved today and enjoyed the Tyne-Wear derby for the great occasion that it is.
"Disappointingly, there was some disorder involving what appear to be Newcastle United supporters following the match in the city centre, including an incident at Central Station.
"Disruptive behaviour of any kind is not tolerated. Inquiries will take place into these incidents and action will be taken against all those involved.
"This was very much a partnership operation and a lot of planning went into what is a large scale policing operation to ensure that genuine fans were able to enjoy the game.
"Public safety is always our number one priority during any football match.
"For those who chose to get involved in disruptive behaviour they were either dealt with swiftly by officers or will be subject to retrospective action at a later date."
Video footage of the violence in Newcastle this afternoon showed fans picking up empty glass bottles from a bin and throwing them towards rows of helmeted police officers.
A burning bin could also be seen lying on its side in the road.
More than 50,000 people attended today's match.
Sunderland fans were transported to the stadium on special Metro and rail services and in coaches organised by their club.
The away supporters were kept inside St James' Park for around 20 minutes after full time in a pre-arranged holdback before being taken back to Sunderland on coaches or escorted to Central Station by police.
Northumbria Police made reference to the trouble on its official Twitter account.
One tweet read: "There have been pockets of disorder involving #NUFC in #Newcastle city centre, no major disruption, officers are on scene and dealing."
Another message said: "CCTV and evidence is being gathered and action will be taken against anyone involved in these sporadic incidents in #Newcastle #derby."
A number of people also took to Twitter to condemn those involved in the violence, with many describing them as "idiots".
One user posted: "These lads are a disgrace to Newcastle."
Others called for the trouble-makers to be banned from attending future matches.
Comments have been close for legal reasons.