Racing legend Sir Stirling Moss has said women "do not have the mental aptitude" to compete in Formula 1 racing in comments condemned as "cringeworthy" by one of the world's top drivers.
Speaking to BBC Radio 5 Live, the outspoken former racer conceded that while women may have the "strength" to drive, he didn't know if "they've got the mental aptitude to race hard, wheel-to-wheel."
Moss, a 16-time Formula One race winner, said: "The trouble is, when you're racing, it's pretty tiring,"We had three-hour races in those days. You needed tremendous concentration. Now races are only one hour and 10 minutes.
"We've got some very strong and robust ladies, but, when your life is at risk, I think the strain of that in a competitive situation will tell when you're trying to win.
"The mental stress I think would be pretty difficult for a lady to deal with in a practical fashion. I just don't think they have aptitude to win a Formula One race."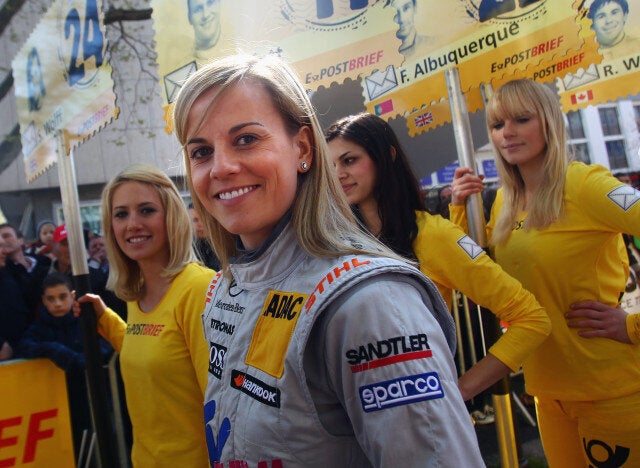 Susie Wolff is one of the fastest women in the world
Susie Woolf, a test driver for Formula One, said he was speaking about "a different generation" telling the programme:
"I completely disagree with him. It makes me cringe hearing that," she said. "I've got a lot of respect for Sir Stirling and what he achieved, but I think we're in a different generation.
"For Moss, it's unbelievable that a female would drive a Formula One car, which is fair enough. In the days they were racing, every time they stepped into a car, they were putting their life on the line. But F1 is much more technologically advanced, it's much safer than it was." It's not the first time Moss has courted controversy. Earlier in March, a homophobic row erupted after the driving legend said he didn't want a "poofter" to play him in a film about his life.
He agreed a masculine actor would be suitable because he had spent his life "driving cars and chasing girls".
"I hope the actor would be masculine, not a poofter or anything like that. Perhaps the guy from Skyfall?"
He was of course referring to Daniel Craig's third outing in the most successful James Bond film.