F1 chief Bernie Ecclestone has compared Bahrain protesters to those taking part in anti-Thatcher demonstrations saying "you will always get people that will want to make riots." Anti-government protests are expected to be more visible than last year in Bahrain
Human Rights campaigners have condemned the decision, as security forces clamp down on protesters prior to the race, prompting an increase in raids and arrests.
The uprising in Bahrain is often described as the 'forgotten Arab Spring', with violence breaking out in a Shia revolt against the ruling Sunni al-Khalifa family in March 2011. The uprising in the tiny Gulf State is often described as the 'forgotten Arab Spring'
Anti-government protesters are planning to make the most of the media coverage of the Grand Prix to raise awareness of their cause, prompting fears that the race is antagonising an already volatile situation.
Offering to speak with protesters again this year, he said "it is really difficult to decide who is right and who is wrong."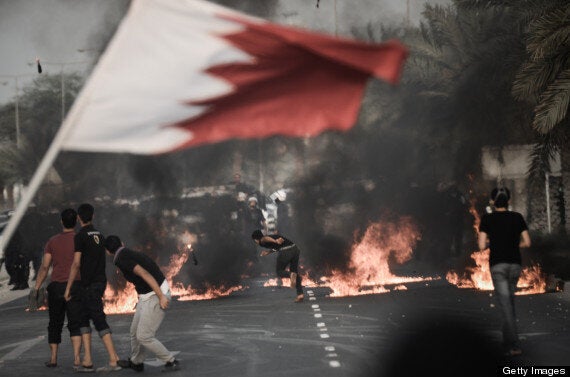 Bahraini anti-regime protestors throw petrol bombs towards riot police
He added:"You are always going to get people who are going to try and take advantage of any situation. If you are going to do something you might as well do it when there is a lot of worldwide TV there. Ecclestone said he has sympathy with both sides
"I have sympathy with both sides of the argument. I wish they could sort things out. If there are any problems, which there are obviously – people are not making trouble if there are no problems – then they could get it sorted out.
"Whether they have or not, I don't know, but you will always get people that will want to make riots anyway."
Ecclestone acknowledged that the Grand Prix may encourage violence but said the race contributed to the wealth of the country. He said protests like these happen "worldwide" adding: "We've had all sorts of protesters – look at those complaining about Mrs Thatcher. This happens all the time. People use these things when there is an opportunity.
"I said to them [protesters] if you are going to achieve what you are trying to achieve, which is having control of the country, you are better off having control when the country is strong and respected worldwide than capture something nobody wants."