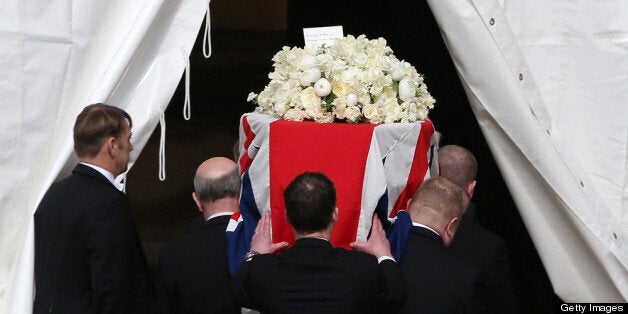 A rally to remember the "industries and communities who suffered" under Baroness Thatcher will take place within hours of the former prime minister's funeral.
First Minister Alex Salmond will attend the funeral service at St Paul's Cathedral in London this morning, along with other leading politicians and international figures.
But while the service in London will commemorate the life of the former Tory leader who died last week, some of those who opposed her will hold a rally in Glasgow this evening to "remember those who were plunged into despair and poverty" as a result of her government's policies.
As prime minister, the then Mrs Thatcher introduced the community charge, commonly known as the poll tax, to Scotland before the rest of the UK.
Prominent left-winger Tommy Sheridan, a former MSP, helped lead the protests against the poll tax in Scotland. He will speak at the Glasgow rally alongside trade unionists, representatives of the steel industry and the Campaign for Nuclear Disarmament.
Independent MSP Jean Urquhart, who quit the SNP in protest against the party's support for Nato membership should Scotland become independent, is also due to address the gathering in George Square.
Last week more than 300 people gathered in the Glasgow square to celebrate the death of Baroness Thatcher.
Ken Ross, co-organiser of today's event, said: "The array of speakers at the rally will reflect the many industries and communities who suffered under Thatcher.
"We will remember miners, steel workers, print workers, public sector workers and factory and plant workers whose industries were decimated and whose livelihoods were destroyed.
"We will remember those who were plunged into despair and poverty as a direct consequence of Thatcher's heartless and barbaric policies. This is Thatcher's real legacy."
MSPs at Holyrood were due to discuss Baroness Thatcher's legacy this afternoon but the timing of the debate was changed to avoid a clash with her funeral.
Brought forward by the group of Green and Independent MSPs at the Scottish Parliament, the debate has been rescheduled for tomorrow afternoon.
After the death of Baroness Thatcher last week, First Minister Alex Salmond said she was a strong leader, despite routinely calling into question the impact of her policies.
"Margaret Thatcher was a truly formidable prime minister whose policies defined a political generation,'' he said in a statement.
Scottish Labour leader Johann Lamont offered her "deepest condolences" to the former prime minister's family and friends.
But she also said: "I came into politics to fight the ideology and values of Margaret Thatcher, which I believe damaged our country."
Scottish Conservative chairman David Mundell, the only Tory MP in Scotland, described her as "a truly transformational figure who rescued an ailing Britain and set our nation on the path to an economic prosperity and social mobility that we had never previously enjoyed".
He said: "Margaret Thatcher changed Britain for the better but she helped change the world for the better too.'