The May 2013 edition of Vogue Netherlands has run an editorial honouring designer Marc Jacobs's work with Louis Vuitton.
So far so Vogue, but puzzlingly, the accompanying spread features a white model in "blackface" make-up.
Entitled "Heritage Heroes", the piece talks of Jacobs's "tribal influences" in his designs, as well as the styles of Africa-American cultural icons Grace Jones and Josephine Baker.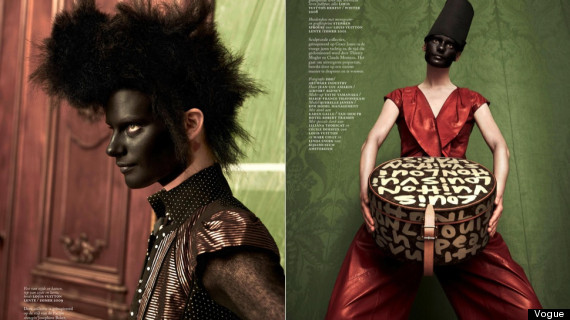 The Vogue Netherlands spread features model Querelle Jansen in 'blackface' makeup
The magazine hence seems to have found it fitting to paint model Querelle Jansen's face black for the shoot and photograph her in a dark, afro wig.
As Fashionista points out: "A couple of alternative ideas: Use a model who already looks something like Grace Jones or Josephine Baker without facepaint.
SEE ALSO: Victoria's Secret Apologises For 'Racist' Native American Headdress... After No Doubt Pulls Video
"Or just, you know, don't paint a white person's face black ever?"
A fair point, and it's also worth remembering the ongoing controversy over a traditional Dutch Christmas character – "Zwarte Piet" or Black Pete, who is pageboy helper to Santa Claus. Zwarte Piet or 'Black Pete' as he is known, helps St Nicholas or Sinterklaas
Together with Santa (or "Sinterklaas"), Zwarte Piet helps deliver Christmas gifts and sweets to those children who have been "good." If you've been bad, the legend says that Black Pete will kidnap you in his sack and take you back to Spain.
The Vogue shoot is just one of several attempts to portray African culture that fashion mags have bungled: Numero whipped up a controversial blackface shoot this past February and French Vogue shot a similarly-styled editorial back in 2009.
Check out the full editorial -- which lays out the controversy in black and white -- over at The Fashion Spot. What do you think of such "blackface" editorials?
Huffington Post UK's request for comment from Netherlands Vogue has yet to be responded to.