A five-year-old girl is fighting for her life after she was kidnapped and brutally raped by her 22-year-old neighbour in New Delhi.
The youngster went missing on Monday and was rescued nearly two days later after a passer-by heard her cries. Her attacker left her for dead after attempting to strangle her, according to reports.
RN Bansal, chief of the Swami Dayanand Hospital said her genitals had been mutilated and objects had to be removed from her body after causing internal injuries and infection, according to Al Jazeera. Her condition is said to be stable with the next 48 hours critical in her fight for survival.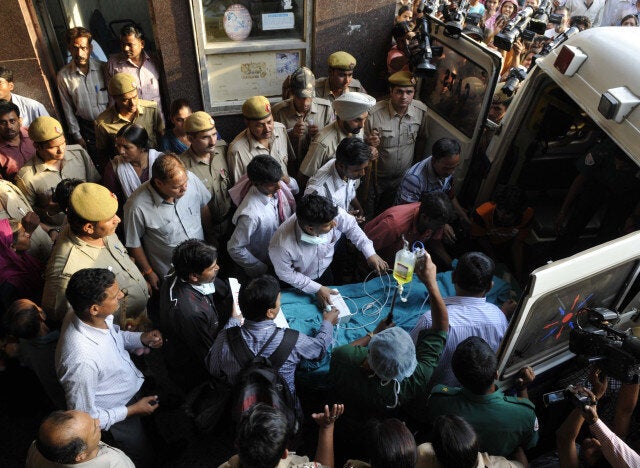 Hospital staff move her body
Protests have taken place outside Delhi Police Headquarters and in front of AIIMS Hospital in solidarity with the victim. Police have been criticised after the girl's father claimed officers offered him a bribe of 2000 rupees to "keep quiet" about the case, whilst allegedly the assistant commissioner of police slapped a girl protester at least four times, causing her ear to bleed, reported the Hindustan Times.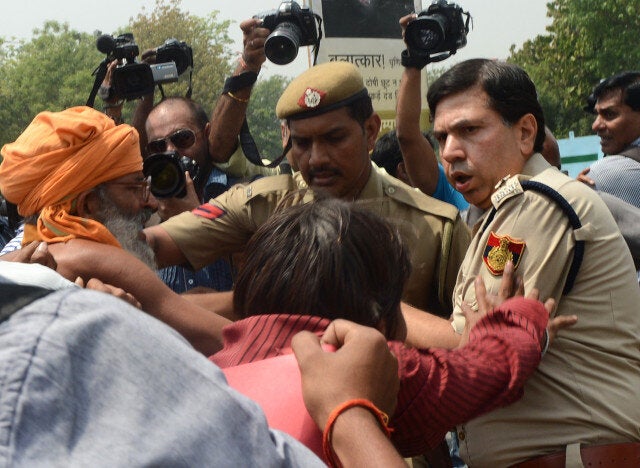 Protesters scuffle with police outside the hospital where the five-year-old is treated
Delhi police spokesman Rajan Bhagat said: "We initially registered a case of kidnapping. We have now launched a preliminary inquiry into rape and attempted murder." He added that police would investigate claims of police corruption.
The latest wave of protests come in the wake of a number of attacks. The death of a 23-year-old student who died after being brutally raped on a bus in New Delhi earlier in 2012 shocked the nation and gave new vigor to the women's rights movement.
Her horrific death prompted a national outpouring of grief and angry protests against a government which is perceived to have done little to tackle violence against women.
In the wake of the latest attack, President Pranab Mukherjee said it was important to identify the causes behind the repeated failure of society to ensure security of women and children, reported the Times of India.
Popular in the Community