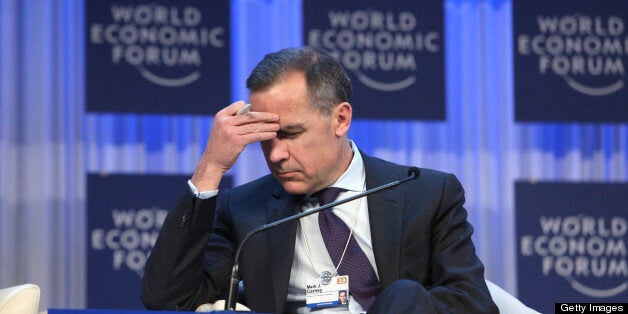 Britain is expected to narrowly dodge a triple-dip recession in keenly-awaited figures due on Thursday, but there will be little cheer amid warnings the UK is a "crisis economy".
Most analysts are predicting that gross domestic product (GDP) edged up by 0.1% in the first three months of the year, which would mean the economy avoided returning to recession for the third time since 2008 after a 0.3% slump in output at the end of last year.
But experts are cautioning it will be a very close-run result after a volatile start to 2013 following snowstorms in January and March and ongoing pressure in the construction sector.
Howard Archer, Chief European and UK Economist at IHS Global Insight told HuffPost UK: "In reality, it makes very little difference whether the economy expanded modestly in the first quarter, contracted marginally or was flat.
"However, it would be good for psychological and confidence reasons if the economy could dodge contraction in the first quarter and therefore avoid nasty and potentially damaging headlines about "triple dip recession".
"We put the odds of GDP contraction in the first quarter (and hence a triple dip recession) at around 30%. So we reckon there is a 70% chance that the economy was either flat or grew marginally."
Incoming Bank of England governor Mark Carney also sparked fears after he branded the UK a "crisis economy" alongside stricken eurozone countries and Japan.
The brutal assessment , made on the fringes of the International Monetary Fund's Washington meeting, came as IMF chief Christine Lagarde also voiced concerns over the UK economy, saying its growth numbers were "not particularly good".
Just days earlier the IMF slashed UK growth forecasts from 1% to 0.7% for 2013 and 2014's projection from 1.9% to 1.5% as it said the private sector was being hampered by a lack of credit and economic uncertainty.
While Downing Street declined to use the same language as Carney, a spokesman said: "Clearly from the Prime Minister's perspective these are very, very tough times.
"We are having to deal with the biggest peace-time deficit... but the path that we are taking is the right one."
Activity in the first quarter has so far been erratic, but there are hopes that a better performance from the powerhouse services sector and bounce back among manufacturers after a dire January will be enough to see GDP grow overall.
And even though retail sales showed a worse-than-expected 0.7% drop in March, sales in the first quarter overall still rose by 0.4%.
Philip Shaw, economist at Investec Securities, is forecasting 0.1% growth, but said there was a risk that last month's snow hit activity more than expected, "suggesting there is a good chance the economy was flat and that it is possible that it contracted".
Economist Vicky Redwood at consultancy Capital Economics said: "The chances of a further contraction in GDP in the first quarter are pretty much 50/50."
She added: "We should not let the somewhat meaningless debate about the triple dip distract from the big picture - that this recovery is still depressingly dismal."
Economists are looking to Carney to inject some radical thinking into how the Bank can spur on the economy when he starts in July.
Policymakers have held off from pressing the button on more economy boosting measures amid worries over the impact on the pound after it plunged in value at the start of the year, while inflation has also risen to its highest level in nearly a year at 2.8%.
The Bank saw its remit overhauled in the Budget to officially give it more flexibility in targeting inflation at 2%, but may hold off from more action on the economy until Carney's arrival.