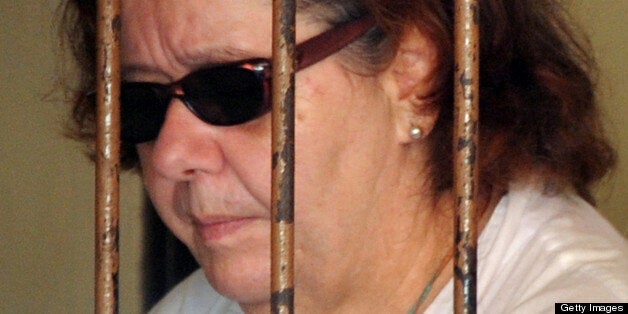 A fundraising page set up to pay for British grandmother Lindsay Sandiford on death row in Indonesia has reached its target of £8,000.
The 56-year-old grandmother is challenging a death sentence imposed for drug smuggling and lost her appeal over a UK government refusal to fund her legal bid.
Now more than £8,700 has been raised via the Just Giving website. Lindsay June Sandiford fans herself as she arrives at the courthouse for a hearing in Denpasar, Bali
It was announced earlier that she has given notice of her intention to appeal against the death sentence at Indonesia's highest court.
A spokesman for law firm Leigh Day, which is representing Sandiford, said: "Lindsay's lawyer has now given notice of her intention to appeal to the Indonesian Supreme Court against her death sentence."
He added: "She is now reliant on the generosity of members of the British public to ensure this can take place."
The notification to appeal was lodged in Denpasar, Bali's capital. Full documentation outlining the grounds of the appeal must be submitted to the Supreme Court within 14 days.
Sandiford, from Cheltenham, was sentenced to death by firing squad by a court in Bali for taking £1.6 million of cocaine on to the island.
Earlier this month she lost the first appeal to the Bali High Court but will take her case to Indonesia's Supreme Court.
Balinese police said Sandiford was at the centre of a drugs-importing ring involving three other Britons, but she claimed she was forced to transport the drugs to protect her children whose safety was at stake.
She received the death sentence, despite prosecutors asking only for a 15-year jail term, after she was accused of damaging the image of Bali.
The Foreign and Commonwealth Office refused to fund her case as a matter of Government policy.
Related