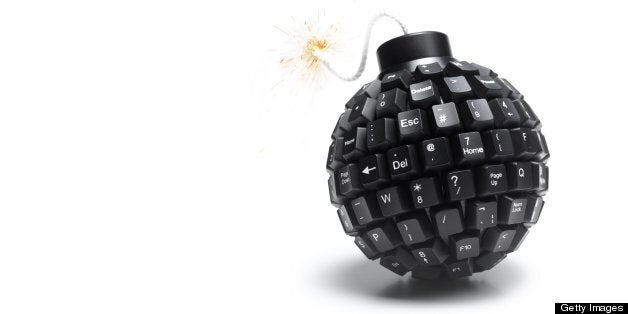 The government faces around 33,000 cyber attacks each month from sophisticated criminals and state-sponsored groups, a Cabinet Office minister has said.
It is forced to block malicious threats on a daily basis as organisations devise "ever more innovative" ways to threaten national security, said Chloe Smith, Minister for Political and Constitutional Reform.
The online assaults emanate largely from state-sponsored actors, hacktivists and cyber criminals.
Cyber attacks remain one of the top four threats facing national security.
"On average over 33,000 malicious emails are blocked at the gateway to the government's secure intranet every month," Ms Smith said.
"These are likely to contain or link to sophisticated malware often sent by highly capable cyber criminals or state-sponsored groups.
"A far greater number of less sophisticated emails and spam are also blocked each month and this is just how popular Government is."
Attacks to its systems come from a variety of sources and are based on political, financial or ideological motivations, Ms Smith said.
She detailed the threat to the Government as the Department for Business, Innovation and Skills (BIS), increased support for small firms to help them protect against electronic attacks.
The Technology Strategy Board has extended a scheme to allow small and medium enterprises (SMEs) to bid for up to £5,000 from a £500,000 pot to improve their cyber security by bringing in outside expertise.
Smith said: "The cyber security element of this scheme will fund 100 companies with innovation vouchers of up to £5,000 each."
She added: "We want to make the UK one of the most secure places to do business in cyber space.
"We want to make the UK more resilient to cyber attack, better able to protect our interests in cyber space."
The government has launched a parallel drive to improve cyber security skills among young people.
Learning material has been developed for GCSE and A-level students and this is expected to arrive in schools in September, Ms Smith said.
She spoke as the information security trade show, Infosecurity Europe, opened today in central London.
Ross Parsell, director of cyber security at defence firm Thales UK, warned the UK was "quite open to hostile activity" and must beef up its defences to counter cyber terrorism.
"I think we will start to see more protester hacktivist activity on a bigger scale," he said.

"The terrorist won't necessarily need to be intelligent to create an attack. What he needs is money to pay people to create that attack for him.

"I don't think we are quite ready yet. Some of our systems are quite old. We would like to think they are defended but maybe they're not."
Meanwhile, he said would-be terrorists may resort to cyber attacks which are often "easier" and can be carried out from afar.
This could involve closing down the water supply in a large area or shutting down large sections of the National Grid to create panic, he said.
"It starts to become more attractive to (terrorist) organisations to start looking in the direction of cyber to create havoc in a manner that is reasonably safe for them," he added.
"We are getting there - it isn't just gloom and doom. The problem is the bad guy moves fast and we need to stay on our toes".
Related