Luis Suárez has been banned for 10 games by the Football Association for biting Branislav Ivanović and will play no further part this season.
The Liverpool striker admitted the violent conduct charged but believed a three-match ban would be sufficient punishment.
The ban dwarfs the eight-match ban and £40,000 fine Suárez received for racially abusing Patrice Evra last season.
Read more at http://www.thefa.com/News/governance/2013/apr/luis-suarez-violent-conduct-charge-liverpool-chelsea-ivanovic-ten-matches.aspx#BEqOeGYUgyJvAF28.99
He will miss games against Newcastle, Everton, Fulham and Queens Park Rangers, as well as the opening six league games of the 2013-14 season Barclays Premier League campaign, providing he is still a Liverpool player.
Liverpool said: "Both the club and player are shocked and disappointed at the severity of today's Independent Regulatory Commission decision."
"We await the written reasons tomorrow before making any further comment."
In the 65th minute of Liverpool and Chelsea's draw on Sunday, Suárez and Ivanović were involved in a collision inside Chelsea's penalty area which led to a Liverpool corner, however replays showed Suárez sink his teeth into the Serbian's arm.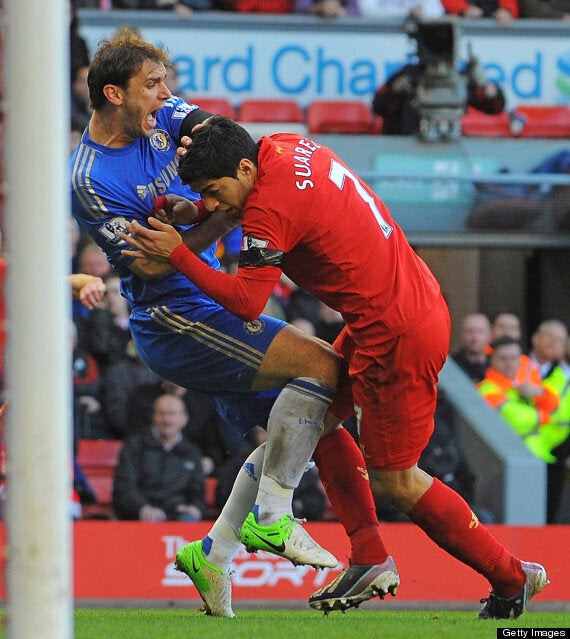 Ivanović reacts after being bitten by Suárez
Ironically, it was Suárez who nodded in the Reds' 97th-minute equaliser.
Suárez was suspended for seven matches in 2010 when, while playing for Ajax against PSV Eindhoven, he bit Otman Bakkal.
Before the Chelsea fixture, Suárez told The Sunday Times how his wife was encouraging him to improve his on-pitch behaviour.
Controversy has followed Suárez since he came to prominence at the 2010 World Cup, when he handled on the line in the final minute of extra-time to prevent Ghana from beating Uruguay in the quarter-final. He was sent off but Asamoah Gyan smashed his penalty against the crossbar, with Suárez's gleeful reaction caught on camera. Uruguay won the penalty shootout.
Since he joined Liverpool, he has served a one-match suspension for brandishing his middle finger at Fulham fans in December 2011, which came after his deplorable abuse of Evra.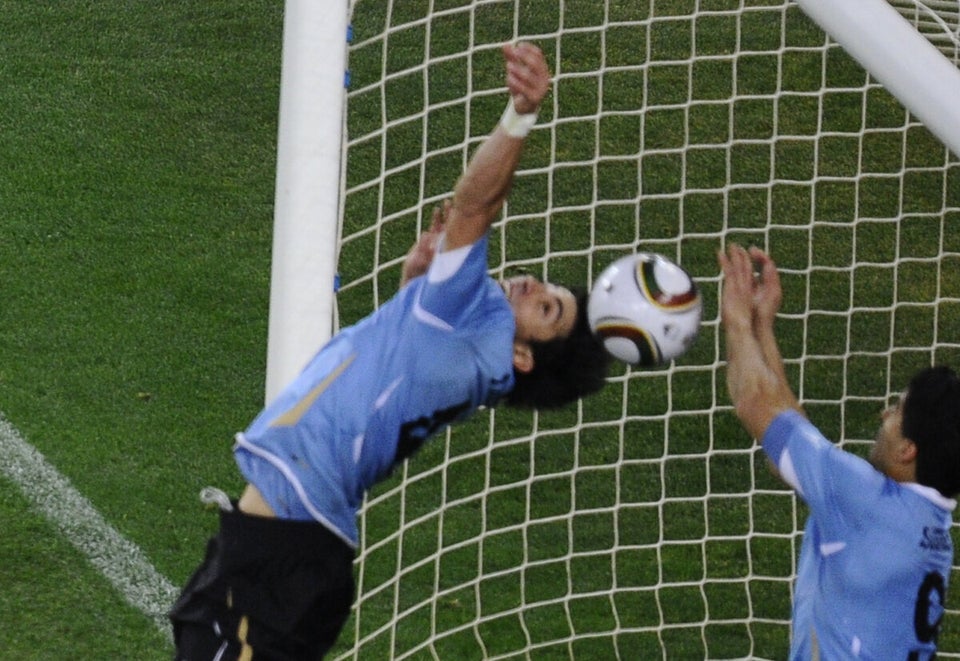 Luis Suárez Controversies
When Suárez came face-to-face with Evra months later, he refused to shake his hand and was further condemned. He issued an apology the following day, but has never said sorry to Evra directly.
The 26-year-old was accused of cheating in the third-round of the FA Cup in January when he handled to control the ball before scoring the winner at Mansfield Town.
Suárez stamped on Hubocan in front of the Kop
Suárez apologised for biting Ivanović on Sunday evening and Liverpool have vowed not to sell the irascible striker.
The Uruguayan was leapfrogged in the Barclays Premier League scoring charts by Robin van Persie on Monday night, having been the first player to hit 20 league goals this season.
Popular in the Community