Prison governors say it is time to end the 'way on drugs' because it is putting so many people behind bars.
Government policy means criminals can control the supply and quality of drugs - meaning users need to turn to petty crime to feed their habit, the Prison Governors Association (PGA).
The PGA has added its voice to a campaign calling on governments around the world to rethink their approach to drug control.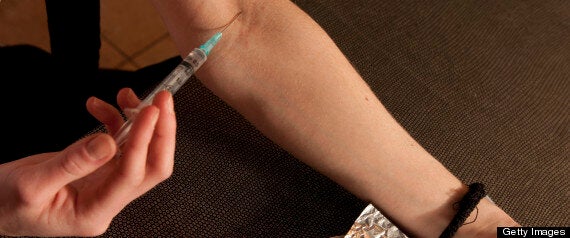 Prison governors have joined the drugs debate
Called 50 Years of the War on Drugs, Time to Count the Costs, it asks governments to add up the "unintended negative consequences of the current approach to drugs" and is backed by Richard Branson.
PGA President Eoin McLennan-Murray said: "The blanket prohibition on class A drugs allows criminals to control both the supply and quality of these drugs to addicts who turn to crime to fund their addiction.
"The Prison Governors' Association believe that a substantial segment of the prison population have been convicted of low level acquisitive crimes simply to fund that addiction.
"The current war on drugs is successful in creating further victims of acquisitive crime, increasing cost to the taxpayer to accommodate a higher prison population and allowing criminals to control and profit from the sale and distribution of class A drugs.
"A fundamental review of the prohibition-based policy is desperately required and this is why the Prison Governors' Association are keen to support the Count the Costs initiative."
The Home Office is currently undertaking a detailed study of how other countries deal with illegal drugs including forms of decriminalisation.
Crime prevention minister Jeremy Browne is being sent to countries such as Portugal, which has ''depenalised'' small-scale possession, to gather evidence on what works.
But MPs' calls for a wide-ranging Royal Commission earlier this year were rejected by the Government, which insisted there was no case for ''fundamentally re-thinking the UK's approach''.
It comes after drug-related crime was the only category to record an increase in a new report.
The UK peace index said police cuts were one of the factors behind the rise, as was a "warning" scheme introduced for cannabis use in 2004.
Last year the influential Commons Home Affairs Committee said the present British policy was not working, and called for a Royal Commission to look at the issue.
The government has rejected this suggestion, as well as calls to decriminalise some drug use, but is still looking at other measures.
Martin Powell, co-ordinator of the Count the Costs initiative, said: "Increasingly, those involved in picking up the pieces of our failed war on drugs want to see alternatives to prohibition explored. The coalition should heed the PGA's call, and commission a comprehensive policy review as a matter of urgency."
Other supporters of the initiative include Fernando Henrique Cardoso, former president of Brazil, and Human Rights Watch.