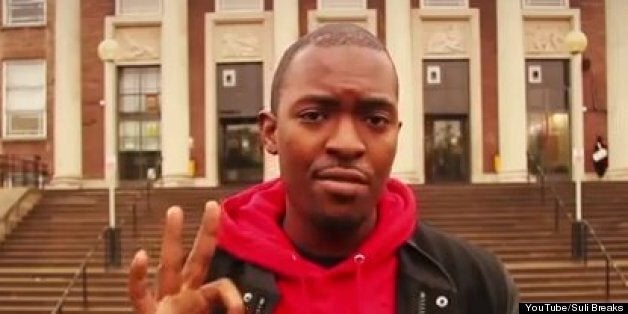 While parents and teachers are looking to politicians for the latest on school and education, the young are opening their eyes - and ears - to Suli Breaks, the spoken word poet taking YouTube by storm.
The "twenty something"-year-old is rapidly becoming a voice for young people trapped in a society where success is only measured by exam grades. In his latest viral video, "I Will Not Let An Exam Result Decide My Fate", Breaks chastises parents, teachers, and the government for focusing on exams - instead of nurturing raw talent.
"I first started spoken word poetry when I was at university in my last year," Breaks tells the Huffington Post UK. "I did it instinctively on a whim and it generated a good response. Even in my last year I found I wasn't engaged in what I was studying and I was distant from it. I found the spoken word is what I enjoyed doing so I decided to pursue that."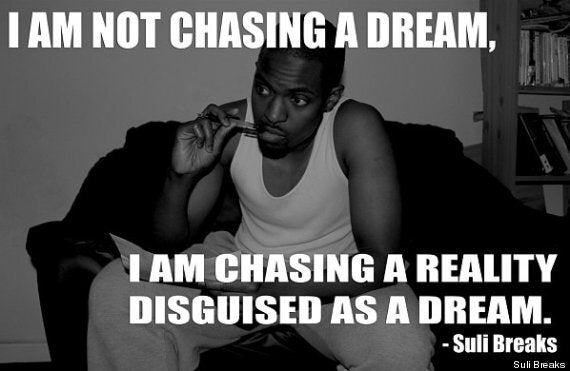 Suli Breaks with one of his inspirational mottos
Breaks says he never gave his career much thought; "I just did what I was good at."
"My emphasis is on people changing their attitude towards education - whether they're students or teachers," he explains. "You don't have to reform the whole structure of the curriculum but people need an understanding that just because you're not good at a subject doesn't mean you're not going to succeed.
"Likewise, as in my circumstances, just because you are good at something doesn't mean you should pursue if it's not what you want.
"There's so much potential which people never really realise because they're stuck in the constraints of society's thinking. My emphasis is on the mentality."
Although Breaks says he never expected to be a success, his "Why I Hate School But Love Education" performance has had more than two million views on YouTube.
Under the video, Breaks asks: "What is the value of mainstream schooling? Why is it that some of the most high profile and successful figures within the Western world openly admit to never having completed any form of higher learning?"
"I didn't really put the video out there and expect a response," Breaks continues. "What I did want was to empower the people who hear it. I remember feeling low in myself, working certain jobs such as cleaning, and I had no-one to tell me there was light at the end of the tunnel.
"I'm not saying drop out of school or university but I want them to know there is someone here who knows what you're going through and can help you find another way.
"I've had people message me saying they finally understand why they couldn't do certain things in class and they used to feel dumb but now they realise they're not. Some guy messaged me saying he's never been good at maths and he's always felt bad but he's realised his strong point is english and politics. For me, that sense of empowerment is what I've been looking for."
"One mother messaged me and she said her son has been having so much difficulty in life as he's felt inadequate in school but since he heard my piece he realises he's OK and there's nothing wrong with him. For me, that message really stood out - the fact that I can add value to someone's life just by saying something like that.
"At the end of the day I'm an artist who just likes expressing myself and if someone;s enjoying my work that's enough of a satisfaction."
And so how old is this wised-up young man?
"I always tell people I'm twenty something," Breaks says. "I prefer not to go into my age - I feel like when I do, people base their perspectives on that."
Follow Suli on Twitter: @SuliBreaks