Ukip has suspended one of its candidates after she posted anti-Semitic comments online.
The party said it was "appalled" by the remarks made by Anna-Marie Crampton, who had been due to stand in next week's East Sussex local elections.
Crampton insisted she was not anti-Semitic, had never said she did not believe in the Holocaust, and had "clearly been trolled".
A Facebook profile in her name posted that the Second World War had been "engineered by the Zionist jews", adding: "Only the Zionists could sacrifice their own in the gas chambers."
She also made reference to conspiracy theories about the Boston bombings.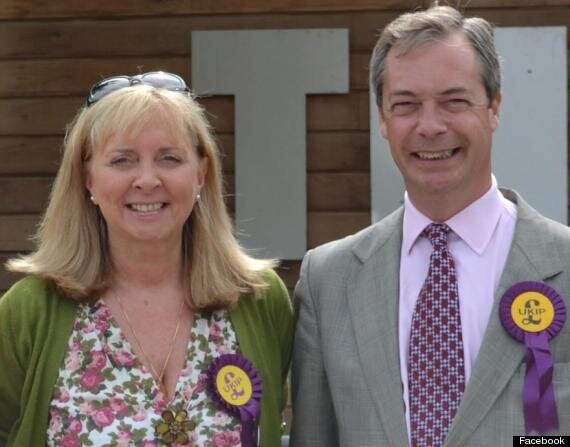 Anna-Marie Crampton pictured with Ukip leader Nigel Farage
A party spokeswoman told The Huffington Post UK: "Following the remarks made on social media sites by Anna-Marie Crampton Ukip have suspended her as a candidate in the forthcoming County Council elections.
"The party was appalled by the remarks made by her and this sort of anti semitic, anti zionist conspiracy theory is not welcome in Ukip.
"Indeed, we are confused as to why a party like Ukip would be seen by anyone as a suitable vehicle for someone holding these sorts of views."
Crampton remains on the ballot paper for Thursday's poll, but Ukip added: "We want voters in her district to realise that she is not representing the party and the people of East Sussex and beyond to rest assured that her views are not held by the party and do not reflect the views of our other excellent candidates.
"Whilst we have vigorous selection procedures in place for Westminster and European Elections in these County Council elections we have to some degree had to rely on good judgement and good will of our local branches who wanted to ensure that all Ukip supporters had a candidate to vote for."
In a tweet posted after news broke of her comments, Crampton wrote:
In a joint statement, Vivian Wineman, President of the Board of Deputies of British Jews, Jeremy Newmark, Chief Executive of the Jewish Leadership Council and Richard Benson, CEO of the Community Security Trust, said: "These appalling alleged comments by Anna-Marie Crampton represent the kind of far right extremism from which UKIP tries to distance itself.
"We note that the party has acted correctly by suspending Crampton and if she made those comments, we trust that she will be expelled both as a candidate and as a party member."
Also on Thursday, Ukip leader Nigel Farage admitted the party could not afford to fully vet all of its 1,700 candidates.
He had been asked about the former BNP activist Sue Bowen, who was suspended as a candidate when her links with the far-right party were revealed.
Farage added: "I have no doubt that among these 1,700 one or two will have slipped through the net that we'd rather not have had."
And on Wednesday he told journalists: "Whilst from time to time we may attract the odd fruitcake, the odd loony the odd nutcase, doesn't every voluntary organisation?"
Popular in the Community