So ebullient and excellent is Jürgen Klopp's Borussia Dortmund team it feels illegal to dismantle their brilliant squad. Shinji Kagawa left last year and Mario Götze, it was announced this week, will be a Bayern Munich player next season. The next man who could follow them into the departure lounge is Robert Lewandowski, fresh from scoring all four of BVB's goals against Real Madrid in their 4-1 Champions League win.
Lewandowski's performance should be remembered as one of the great individual displays in the competition. All four of his strikes were superbly clinical as he threatened to outshine Bayern Munich's 4-0 battering of Barcelona on Tuesday night.
The Bundesliga has, for some time, been the best league on the continent in terms of matchday experience, atmosphere, and the quality of football. Belatedly, the jingoistic faction of the English media are waking up to Bayern and Borussia's brilliance, yet while Bayern announced their intention to build on their progress as early as January by hiring Pep Guardiola, Dortmund face a trickier task.
Already Bayern have ended Dortmund's two-season dominance of the Bundesliga. Confirmed as champions on 6 April, they are 20 points ahead of Borussia with a ridiculous goal difference of +75. Die Roten boast two times the budget of their nearest German rivals and, with Götze's imminent arrival, arguably boast a superior front six than their Catalan conquests.
Poaching Götze shook Dortmund. A club built on a distinguishable harmony, whereas Kagawa left for England Götze was a product of BVB's enviable youth system and the hope was that, when he did seek pastures new, it would be outside of Germany.
Bayern coach Jupp Heynckes' agent claimed this week Lewandowski had an agreement in place with Bayern, the timing of which would have pleased Uli Hoeneß, whose decision to report himself to police for tax evasion has already been dwarfed by the Götze deal and Barcelona win.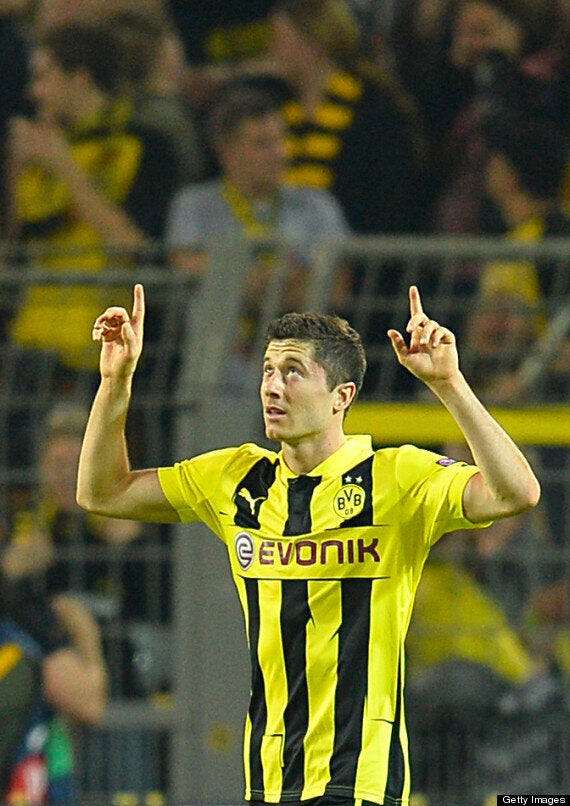 Lewandowski was outstanding against Madrid
Lewandowski's contract expires in 2014, making his sale this summer inevitable. Klopp wouldn't allow that possibility to taint his happiness after Dortmund's evisceration of Madrid, though.
"I don't get the feeling Robert is on the run," Klopp told ZDF television. "We'll just have to see what happens."
Lewandowski refused to discuss his future post-match but Dortmund general manager Hans-Joachim Watzke outlined the club's determination to keep him for another 12 months even if it means seeing him eventually depart on a free transfer.
"Our wish is explicit that he stays here," he said on Sky television. "We will even do without receiving a transfer fee for him - that doesn't interest us in the slightest.
"Robert's contract runs until 2014 and, unlike Mario Götze, there is no get-out clause."
Dortmund would command at least £25m for Lewandowski, probably more after his outstanding accomplishment versus Madrid. Bayern Munich would love to lure him to the Allianz Arena but Dortmund may be reprieved.
Manchester United's interest in the Poland striker is one of the worst kept secrets after Sir Alex Ferguson watched the Pole in last year's German Cup final. Ferguson had effectively concluded a deal for Kagawa to join United so took the opportunity to cast his eye over Lewandowski, who scored a hat-trick in Berlin.
Most striking was the Pole's telepathy with Kagawa, who also scored in the 5-2 victory. Ironically, Kagawa had bemoaned Lewandowski's selfishness just over a week before Dortmund sealed their double win.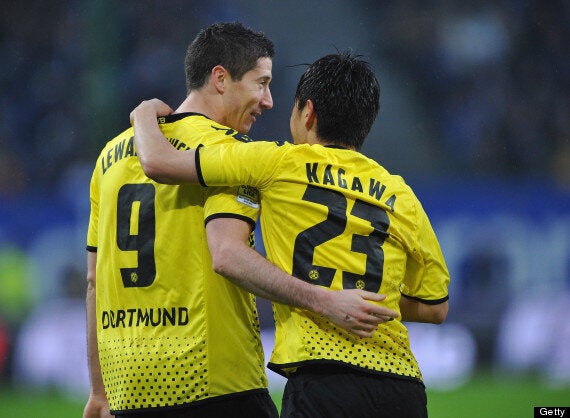 Lewandowski and Kagawa combined brilliantly when Götze was injured in 2011-12
"Lewandowski's game is not based on interaction with the others, but only to himself at the opposing goal to score," Kagawa said.
"He never notices better positioned players on the pitch, so I get no passes from him. But it cannot be helped. He is precisely this kind of player."
Lewandowski is receptive to joining United but with Bayern's Pep coup and midweek display underlining their status as arguably Europe's best side, the Barclays Premier League champions may have missed the boat.
Dortmund would obviously prefer to sell Lewandowski to United, similarly to Schalke when Manuel Neuer announced he was to leave the club after the 2010-11 campaign. Ferguson needed a successor for Edwin van der Sar and Neuer, young, yet experienced, was an outstanding candidate.
But despite being a lifelong Schalke supporter, he joined Bayern, while Ferguson appeared to have decided on David de Gea as far back as September 2010, when he skipped United's League Cup tie at Scunthorpe to watch him for Atlético Madrid against Valencia. Ironically the younger and rawer De Gea, at £18m, cost more than the £14m Neuer.
A move for Lewandowski would further marginalise Wayne Rooney, but the prospect of the Dortmund striker being reunited with Kagwa and forming a partnership with Van Persie appeals to the majority of United supporters. Even if they must take further responsibility for breaking up what could be the Champions League's most popular winners.
Popular in the Community