A gang which stole a fleet of cars from some of London's wealthiest residents were caught out after posting pictures on Facebook – including one of a member eating a "cash" sandwich.
The eight men stole at least nine cars, including BMWs, Range Rovers, Porsches and a £100,000 Mercedes.
Jewellery, laptops and phones were also taken during their five month spree of burglaries.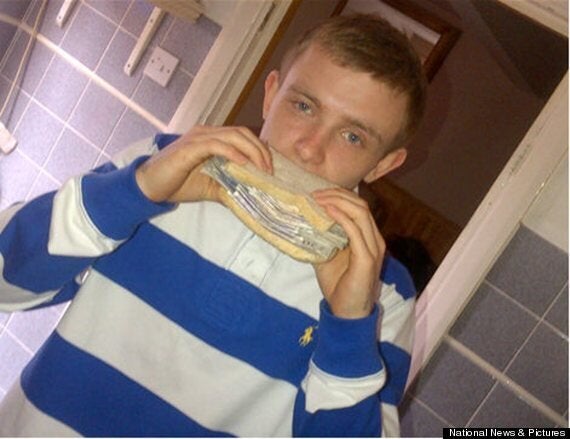 Conor Murphy was pictured on Facebook biting into a 'cash sandwich'
Detectives final caught up with the them after one of the gang members posted a picture of himself sat on the bonnet of a stolen black Range Rover on Facebook.
That picture led police to discover a number of other incriminating images on the social network site and on the phones of the group, which showed them boasting about their wealth.
They showed the men sitting in the stolen cars, drinking champagne, wearing Rolex and Cartier watches and posing with huge piles of £20 and £50 notes.
In one of the pictures Conor Murphy, 19, is seen about to take a bite into a hundreds of pounds worth of notes sandwiched between two slices of bread.
Police also found video footage on their phones that showed them racing the cars they'd stolen and bragging about what other motors they had their eye on.
Blackberry messages, used by the gang to arrange burglaries were also discovered.
Seven of the men pleaded guilty to the burglaries earlier this year.
Murphy, 19, of North Kensington, was jailed for four years eight months.
Niah George, 18, of Hammersmith, received three years 10 months, Jonathan Oriba, 20, of Notting Hill, four years, Akil Ford, 20, of Notting Hill, four years, Daniel Talbot, 23, of North Kensington, four years, Yassin Imlahi, 18, also North Kensington, three years and Rory Mason, also North Kensington, four years.
After they were caught, burglaries in Kensington, one of London's most wealthy postcodes, dropped by half, the Mirror reports.
DI Craig Leonard, from Kensington Police Station, said: "These eight were a group of young lads who were good at what they did.
"But their downfall was that they were stupid."