A powerful explosion ripped through a building in central Prague early Monday morning, with rescuers saying they expect many people to have been buried in the rubble.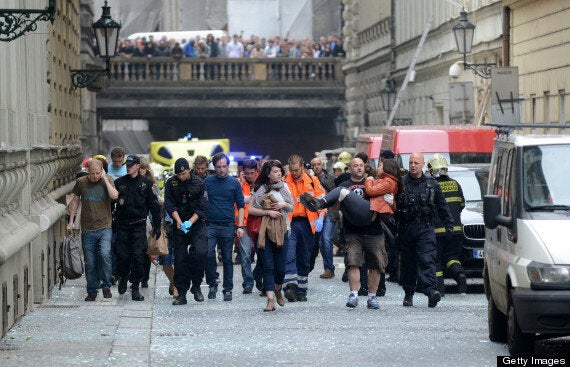 Police officers, paramedics and firefighters lead injured people away from the scene of a powerful gas blast in Prague
Police, firefighters and paramedics are at the scene, searching for those who may be trapped.
Director of Prague Emergency Services Zdeněk Schwarz told Prague media that the number of injured people may be up to 40, mostly with abrasions or lacerations.
There are no reports of fatalities so far, but Schwarz said four people were known to be seriously injured.
Czech media said the building housed a number of companies, next to Cafe Slavia, and reported witnesses saying they had smelt gas in the street. Pictures and videos posted online showed glass from the windows blown for many metres down the street.
DNES photographer said: "There are firefighters, police, and injured people who have been completely covered in dust, and people at the scene claim that they smelled the gas."
Prague mayor Bohuslav Svoboda is on his way to the scene, local media said.