The University Of Manchester have become champions of BBC contest University Challenge for a fourth time, to equal the record set by Magdalen College, Oxford.
Manchester have amassed their string of wins in the space of only eight years and have become only the second team to retain the title in consecutive years since the programme's launch in 1962.
Viewers saw the team of four - led by captain Richard Gilbert, a linguistics student - beat University College London by 190 points to 140.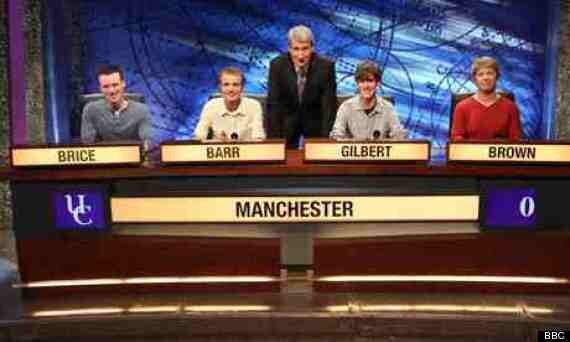 The team of winning contestants with host Jeremy Paxman
Manchester had already faced UCL once during this 37-week series and in that quarter-final meeting they lost by 80 points.
But the team turned the tables in the final, which was the seventh time they had faced question-master Jeremy Paxman during the 2012-2013 season of the BBC2 show.
The captain, from Henley-in-Arden, Warwickshire, was joined by economics student David Brice from Kingston-upon-Thames, Adam Barr from Muswell Hill in North London, who is studying physics with astrophysics and Debbie Brown from Buxton, Derbyshire, studying for a PhD in pain epidemiology.
Gilbert said: "I think we did well because we had the perfect broad range of knowledge across the team, David is very strong on maths and science, I am a bit of a Jack of all trades, Debbie is great on biology and Adam is a scientist, so we had a good mix of skills.
"Manchester has such a proud recent history in the competition, but once we'd got there in many ways that pressure was lifted. UCL had already beaten us once in the series, so really we went into the final very relaxed and feeling as if we had nothing to lose."
Manchester had its first victory in 2006, and took the title in 2009 after it emerged that the winning team Corpus Christi, Oxford, had fielded an ineligible contestant. They won again last year.
The team was famously barred from the competition for a number of years following an appearance in the mid-1970s. The team - including journalist David Aaronovitch - gave the name of revolutionary figures in response to every question in a protest about elitism.
Manchester's team has been mentored by coach Stephen Pearson for the past 15 years, a university librarian who captained the team himself in the contest in 1996.
"As long as I keep finding it fun, I hope to carry on until retirement, which is not for another 20 years or so," he said.
Brice, 24, said he believed he was destined to join the University Challenge team after encountering a former contestant, who reached the semi-finals in 2010 and is now a training partner for the team, when he first arrived in the city.
He said: "I remember getting off the train for the open day and meeting Rachael Neiman and thinking 'Wow'. I put down Manchester on my Ucas form, thinking 'it must be a very good university if they are so good at University Challenge'."
Gilbert added: "The only time we were really nervous was in the first round when we almost got knocked out by Lincoln College, Oxford. We just froze for the first 20 minutes and the questions didn't land kindly for us at all, so we were really lucky to scrape through the opening match."
The only other team to land four wins, Magdalen, took the title in 1997, 1998, 2004 and 2011. Seven teams have won the title twice.
Popular in the Community