Please, someone find the person responsible for Boots' in-store signage and gently suggest they spend some away from the shop floor. And people's feelings.
Just months after a Mother's Day signage gaff had the high-street chemist making inappropriate present suggestions to customers (nothing says 'I love you, mum!' like condoms and Canesten), the chain has apologised for stereotyping certain toys for boys and girls.
According to the Daily Mail, Twitter user @SeanEGray noticed Science Museum toys being labelled for boys and toy tea sets for girls in a Boots store, and tweeted the image to his followers.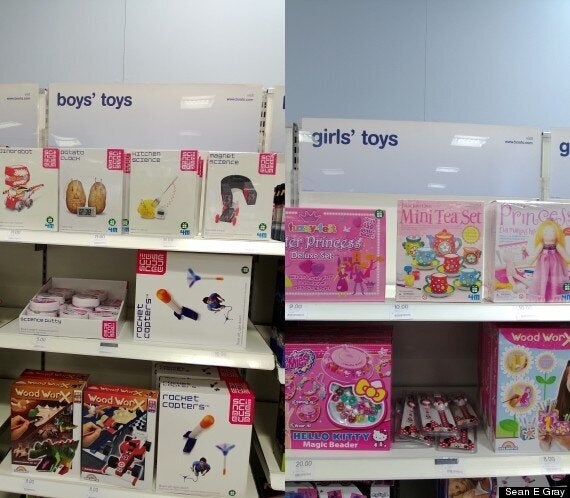 Original image tweeted on April 28 by @SeanEGray
His photo was retweeted by campaigning twitter handle @LetToysBeToys
The group, who are dedicated to "encouraging retailers to stop limiting children's imaginations and interests by promoting some toys as only suitable for girls, and others only for boys" launched a social media against Boots.
They posted @SeanEGray's photo on Facebook and Twitter, while encouraging others to post message on the Boots Facebook page.
Finally, author Megan Peel emailed the director of the Science Museum and made him aware how Boots was marketing toys affiliated with his institution.
The mother of a 10-year-old girl told The Guardian: "He replied within 10 minutes, copying in the head of trading and asking him to investigate immediately. He also mentioned that they had a large festival celebrating women in science recently so he very much sympathised with our concerns."
Peel added: "I find it particularly disappointing that as a science-based company, who employ many female scientists, they chose to label Science Museum toys as 'for boys'."
Boots announced their decision to take immediate steps to remove these signs from store just hours later on its Facebook page.
While chatting on Twitter, Gray told @joisdancing: "All I did was take a photo when I saw something stupid. I'm amazed (and very happy) that it's been spread around so much :)"

According to @SeanEGray, his one-off tweet may inadvertently have encouraged another nationwide retailer to change its ways.
According to statement on Radio Tees, Morrisons are also planning to remove their gendered toy signs from July :D #fb

— Sean E Gray (@SeanEGray) May 1, 2013
This will come as happy news to the hundreds of individuals who posted messages on Boots' Facebook page supporting the company's decision.
Sadly, this is the just the most recent example of sexist product marketing. *Sigh*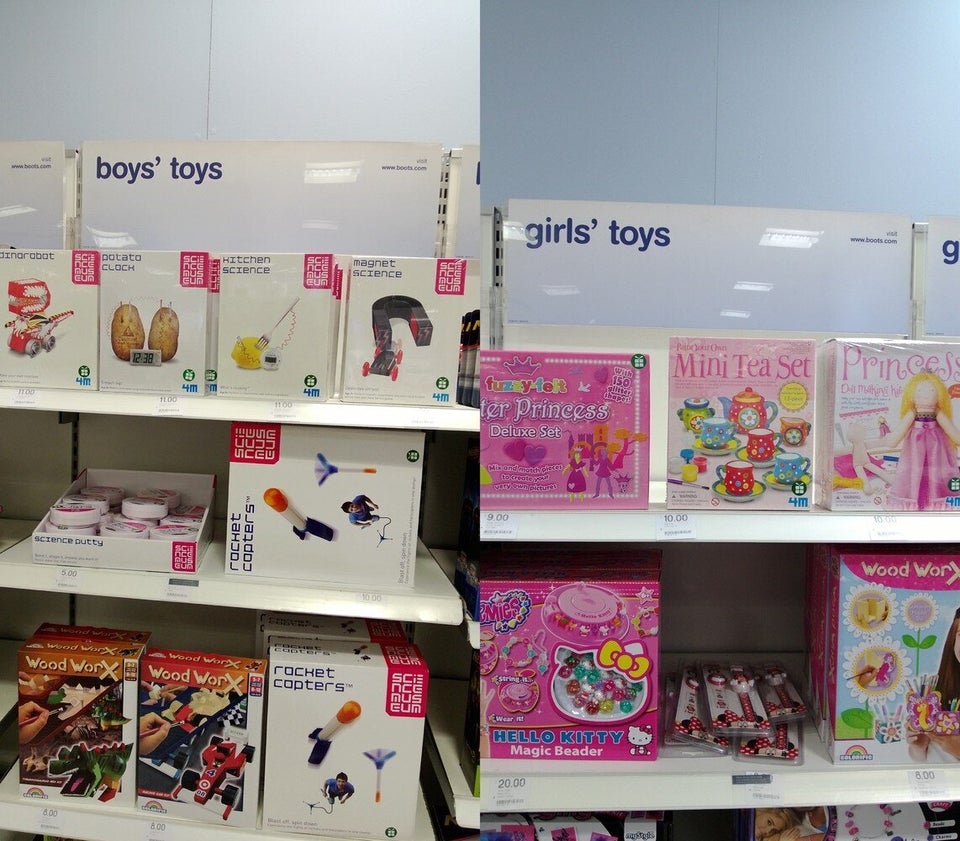 Sexist Stories So Far..