No one likes to imagine that Google knows more about their personality, than they do.
However, a new viral video demonstrates that when it comes to age-related profiling, the search engine giant appears to have a keen sense of what we're all up to, from years 0 to 100.
For example, if you type in 'I'm 14', then a variety of sentence endings populate the box, which include 'and pregnant' and 'my boyfriend is 18'.
According the video's creator, Marius B, these plausible, if less than ideal, potential queries are the result of user profiling by Google.
Marius B says: "Using billions of searches, Google has prototyped an anonymous profile of its users.
"This reflects the fears, inquiries, preoccupations, obsessions and fixations of the human being at a certain age and our evolution through life."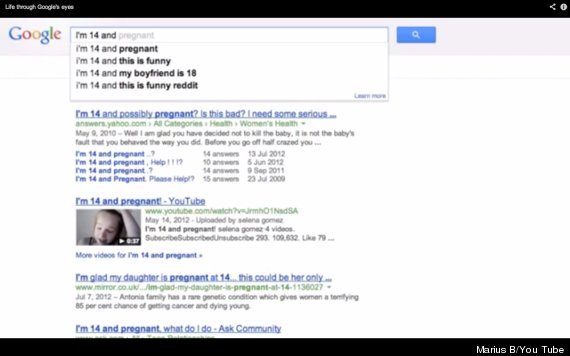 Google's response to a 14-year-old avatar, according to viral video 'Life through Google's eyes'
However, as the users become older, strangely, the sentences appear to continue to populate with very similar suggestions.
HuffPost UK Lifestyle can't help wondering how many 60-year-olds are googling: "I'm 60 and I'm pregnant."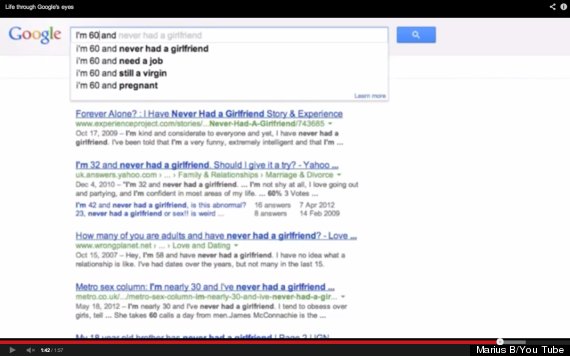 Do these sound like typical search phrases for a 60-year-old?
Scan through our collected images and tell us whether you think this is 'profiling' or repetition of the same popular phrase, regardless of age!