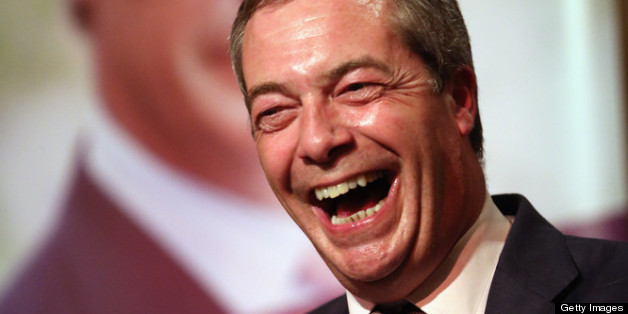 Getty Images
Support for Ukip has surged to 22% ahead of tomorrow's local elections, according to a poll published on Tuesday evening.
The latest ComRes survey suggested Nigel Farage's eurosceptic party is on course to receive a sizeable chunk of the vote tomorrow, stoking Tory fears support for the party could cost them the next general election.
The poll put the Conservatives on 31%, Labour narrowly ahead of Ukip on 24% and the Lib Dems a distant fourth on 12%.
More than 2,300 council seats are being contested tomorrow across England and Wales including the Tory heartland in the south. The ComRes poll is of these areas and is not a not a national survey.
The Conservatives are expected to lose around 300 council seats, many of which they won in 2009 during the dying days of Gordon Brown's government.
On Wednesday morning foreign secretary William Hague tried to avoid making too harsh a criticism of Ukip, although he did say there was a "clown like aspect" to the party.
David Cameron appeared to backtrack on past comments that Ukip was made up of "fruitcakes, loonies and closet racists", telling ITV this morning he was "not calling anybody anything".
And the prime minister also sought to paint the fight as a battle between the Tories and Labour. "With a day to go, I think it is still important to talk about what the choice is at this election," he said.
"And most people sitting at home face a choice either between the Conservatives running their local council or Labour. If Labour get in, as we've heard from Miliband over recent days, they believe in more spending, more borrowing, more of the things that got us into this mess."
LIKE HUFFPOST UK POLITICS ON FACEBOOK | FOLLOW US ON TWITTER
In the run-up to the elections Ukip candidates have come under intense scrutiny, with one being forced to deny holding racist views and making a Nazi salute.
And in an interview with The Independent today, one of Ukip's former leading MEPs said the party told lies in order to whip up anti-immigrant sentiment.
Marta Andreasen, who defected to the Tories three months ago, said: "If you saw the campaign in Eastleigh it was all about immigration and they lie, they produce data which is ridiculous, they say the whole population of Bulgaria and Romania is going to come to the UK."
Farage has said of Ukip's 1,700 candidates a handful had "embarrassed" the party because they "simply haven't told us the truth".
"A huge amount of time and money has been spent on researching every single Ukip candidate standing in these elections. I would speculate if the same amount of scrutiny was put on the Labour and Conservative Party, they would find their own embarrassment," he said.
The Conservatives fear that while Ukip may not win a large number of council seats itself, any split in the traditional Tory vote would allow Labour and the Lib Dems through the middle.