We all love to moan about the NHS but one nursing student "frightened" by the "unrelenting bad press" took a stand at the body's annual congress to defend her profession.
Molly Case, a 24-year-old from South London, who's studying at the Royal College of Nursing, read her "Nursing the Nation" spoken word poetry to a packed room of professionals, doctors and nurses last week - and got a standing ovation for her efforts.
She tells The Huffington Post UK just why she did it.
What made you feel you had to speak out?
"The unrelenting bad press around the whole of the NHS was beginning to frighten me. I think everybody was becoming accustomed to the negativity, almost desensitized to it as if it just 'goes with the profession.'
"I was entirely guilty of this myself, meandering along, noticing the awful things being said but just getting on with it regardless. A few particular words were spoken on a popular daytime TV show that became the catalyst for the poem, but really it was only when the people close to me, my cohort, my colleagues, revealed how upset and disheartened they were, that I sat up.
"That's when I felt this fierce protective spirit over them, over myself, over all of us taking a beating for the bad care that is around, when most of us strive every day to do all we can for our patients. Of course there is bad care, but from my experience I've also seen such goodness and I felt I simply had to do celebrate it in any way I could."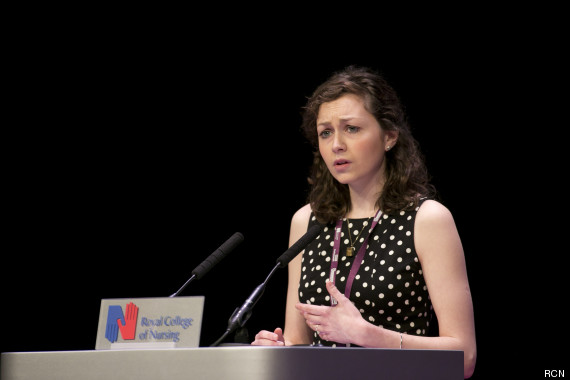 Molly speaking at the NHS congress
Have you been the subject of any negativity?
So far I've been quite lucky. Whilst my poem is political in the sense that it's talking about a topic 'in politics' at the moment, it is not intended to be a criticism or a slating of any political party. I assumed there would be people who took it this way and I've seen a few comments describing the poem as 'a rant', or 'a moan', and that's fine too.
"To me, it's a celebration but of course, I can understand how it could be viewed as controversial. On the whole, the response has been incredibly positive."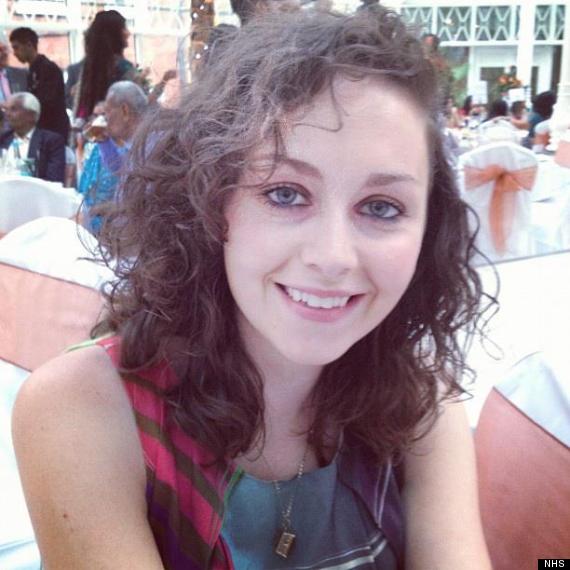 Molly was a regular spoken word performer before she decided to concentrate on nursing
What reaction did you expect from the audience?
"I can honestly say I never expected the reaction I have received! It has been totally overwhelming and I'm so happy that it's resonated with so many people. It was an absolute privilege to stand up at Congress and perform.
"I'm in my element when it comes to poetry anyway, but it was such an important event to speak at and I'd love to do it all over again!
"When the crowd stood up I was simply speechless, it was quite a sight seeing so many people rise from their seats, I'll never forget it and I'll never forget the month of April when I went viral! I'm so incredibly grateful to everybody who has watched it."
Have you had any messages of support since?
"The support has been huge. I'm having to be very disciplined and am doing my best to reply to all the emails and invites I've been receiving. I hope that I can live up to the expectations that everybody has for me.
"It's wonderful to see the interactions on social media sites, even a few celebrities getting involved and people uniting with the same celebratory message. It still doesn't feel like it was me that set all this in motion."
LIKE HUFFPOST UK STUDENTS ON FACEBOOK | FOLLOW US ON TWITTER
How long have you been doing spoken word poetry and why did you feel it was a good medium to get your point across?
When I was studying for my first degree in English Literature and Creative Writing I became a spoken word artist and performed all around the country including for the BBC Radio 4 Poetry Slam heats. I did that for about two and a half years but wanted to focus entirely on my page poetry and my novel.
"I haven't performed spoken word in three years but my colleagues gave me the inspiration to start again.
"I write poetry in response to experiences; I can't help it, it's just something I do. It is always an organic process. Poetry is such a perfect, distilled medium, dew-drop clear and has the power to evoke such change. My life changed when I discovered poetry, I saw the world in a whole new way.
"This poem came to me almost completely formed and then I listened to some of my favourite hip hop artists to get the rhythm as tight as I could, almost like writing a song. The flow of it always has to be just perfect in order to do justice to the words and the timing of the poem.
"As one of my favourite spoken word artists says: 'A good flow is like a fossil it preserves the time/And the only thing of worth you can learn from mine/Is that the spaces between words deserve to shine.' (Polarbear).
"I think spoken word is great for public events, not only do you have the actual words but the rhythm and the rhyme is exhilarating to watch and listen to: a falcon gathering momentum, a petal falling to earth. It can be anything you want it to be."
Molly's pen name is R.I. Macey. Her short story is available to purchase my short story at the Amazon Kindle store.