But is boycotting retailers like Primark, Mango and Matalan the answer? Or does that mean that those young women, who feed their families from their meagre wages working making cheap and trendy fashion for their counterparts in the West, will suffer if company profits plunge?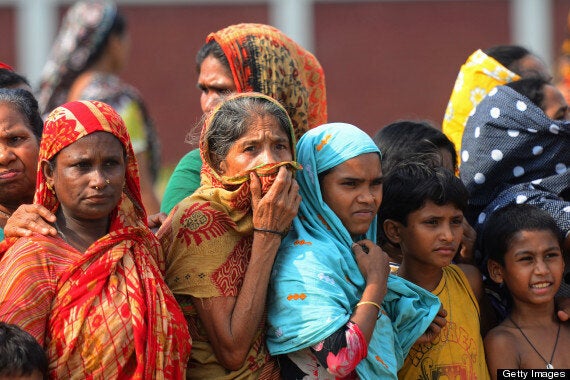 Onlookers gather during the funeral of garment workers killed in the garment factory collapse
Oxfam's ethical trade manager Rachel WIlshaw told HuffPost UK that was in part because some of the direst issues, like child labour, had virtually been eradicated.
"Generally speaking, in the export sector you no longer find child labour. There are not young children, forced to leave school to work. You do find underage workers, who drop out of school, disengaged from education. They are not legal, but not what you'd imagine by child labour.
"The sector has cleaned up its act massively, they do not want people finding children working in the factory. It is, however, endemic in agriculture. And there is very little you can do to stop that," she said.
Since 2005, more than 1,000 textile workers in Bangladesh have died in fires and building collapses. A week ago, at least 610 were killed after the collapse of the building at Rana Plaza in Dhaka, the worst ever-industrial accident. Workers had repeatedly complained that the building was cracking open, but had been ignored by management.
"No words can describe the horror of the criminal action of the manufacturers, brands, employers' groups BGMEA and BKMEA, and the regulatory authorities for their greed for profit, at the cost of precious human lives, injuries and misery to thousands," said Roy Ramesh, general secretary of IBC.
They have called for an inquiry, the publication of the names of all the victims, and the death penalty for those found responsible.
Bin Ibne Reaz, a Bangladeshi activist for workers' rights, told HuffPost UK the government, the owners and international brands all bore responsibility for the tragedy.
"Factory owners show no responsibility for the very poor working conditions in Bangladesh, the government of Bangladesh is poor at enforcing their own weak laws about safety, and the international brands must also bear some responsibilities.
"Primarily, it is them putting extreme pressure on local factory owners to produce at a very low price. And because of that, factory owners have to slash many other areas to keep their profits. In the garment sector, the brands determine the price; if you cannot match it they go elsewhere. The price they want is so low it can barely cover the cost.
"So owners try to cut down on other costs, the wages, fixing problems in the factory. This all contributes to the situations like what we saw at Rana Plaza. It was not the first case and will not be the last one."
Primark, one of the companies whose products were manufactured in the building, said it would compensate workers, a move welcomed by activists.
"I think the fact that Primark felt the need to look like they were taking the lead. The offer of compensation is significant and we will make sure they put their money where their mouth is. They have taken responsibility which is pretty unusual," War on Want's campaigns and policy director Ruth Tanner told HuffPost UK. But she said the company still refused to sign health and safety agreements with trade unions.
Oxfam's Bangladesh Country Director, Gareth Price Jones, said: "Primark's decision to compensate survivors and families who lost loved ones in the Bangladesh Savar building collapse is welcome - other companies who had premises in the building should follow their example. It is crucial that good working conditions and safety rules and regulations are met and tightly enforced by companies and individuals wherever they operate.
"Companies must do more to ensure that their premises in other countries meet all the safety standards and regulations required. The voices and concerns of workers should be paramount and they must be actively involved in ensuring there is no repeat of such a tragedy."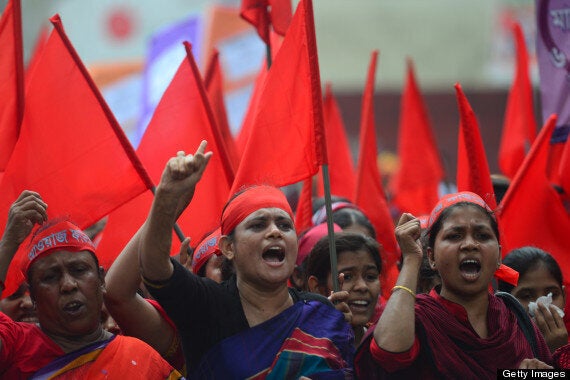 Bangladeshi activists shout slogans and wave flags during a procession to mark May Day or International Workers Day in Dhaka
Reaz, who set up the Alternative Movement for Resources and Freedom Society, described the conditions he had seen visiting factories.
"The factories are like prisons during working hours. The doors open three times a day, morning, lunch, and evening.
"The rest of the time, the factory doors are slammed shut. If the thousands of workers need to get out quickly, through one doorway, they crush each other. Workers are cramped very close together, they are not allowed to move from their seat during the day.
"Workers cannot get permission to leave, even if they hear a disaster is happening. And so it doesn't allow enough time for all these workers to move out in a safe way. And then there's rush, panic.
"Some factories are modern and air conditioned, but some of them are no more than warehouses, some with no windows and a few fans. They are hot, humid, difficult places to work."
Oxfam's Wilshaw said that Bangladesh was one of "the worst offenders" when it came to workers rights and working conditions.
"Another is China, where the physical conditions of the factories are often very good, they have canteens, they are modern buildings but the employment conditions are appalling. There is no voice for workers, no representatives, long hours, living in dormitories near by.
"They suffer a lot of stress, even though conditions look good. In the sub-continent the physical conditions are worse. And wages have been rising in recent years in China, minimum wage has been rising. Bangladesh is much worse for wages, as is India, Pakistan, Vietnam."
But trade unions are gaining strength in Bangladesh, demanding changes to the labour laws and guaranteeing workers a living wage, freedom of association and collective bargaining rights.
Many campaigners for ethical trade have urged high street shoppers not to boycott companies like Primark. This week, the deputy prime minister, Nick Clegg, said he did not shop with a "moral calculator" and often bought his children items from Primark or Matalan.
But he said there was "more we could do to talk about what goes on behind the scenes and this terrible catastrophe might well prompt people to think again."
Ilana Winterstein, a campaigner for the anti-sweatshop group Labour Behind the Label, told HuffPost UK: "Wanting to put a dent in the pockets of major brands is an understandable response to the tragedy. However, we urge people not to boycott the brands involved.
"Instead put the workers at the centre of the issue, and ensure their rights are respected. In response to a boycott, brands may cut production or pull out of factories.
"This would lead to the loss of jobs, garment workers struggling to feed their families, and families unable to send their children to school.
"Countries such as Bangladesh rely on an expanding garment trade. Boycotting may result in a quick-fix solution by brands that will simply pull out of the country whereas what is needed is a commitment to long-term, actual and lasting change.
"We want brands to work with unions on the ground and to listen to the opinions of those who know the conditions best – the workers themselves.
"Brands need to commit to improving building safety, working conditions and to ensuring workers are paid a living wage. Pressuring brands such as Primark to sign up to the Bangladesh Fire and Building Safety Agreement, which importantly places workers and local unions in a central role, can make a real difference to the lives of workers." Factory workers in a garment manufacturers in Bangladesh
Trade unions are gaining strength in the country, demanding changes to the labour laws and guaranteeing workers a living wage, freedom of association and collective bargaining rights.
Women working in Bangladesh's garment industry, speaking through the country's women's rights NGO Karmojibi Nari, said they did not want consumers to boycott the brands.
One said working in the factory meant she "can manage my life, my family and help my father with income. I have freedom, I don't have to beg, I can buy things for myself, whatever I want."
Another said conditions were improving for workers: "At first there was a lot of abuse, now we know that this is not right and we can protest. We are very brave now. Before we couldn't utter a word, even if we had suffered abuse."
All the women said that their minimum wage was too low to keep up with the rising price of rice, rent and transport, and managers demanded overtime when the government ordered a rise in minimum wage. One worker said: "Management never sit down with the workers to discuss this kind of unrest situation.
That is not working. There are only management reps at the committee, there is no election."
Brands, she said, should insist that their factories honour workers rights and enforce better health and safety, insist fire doors open outwards and electricals are properly tested. But not one directed their anger at poor working conditions towards particular international brands, only to factory managers.
One woman described what happened when a middle level manager slapped a worker, it was uncovered in an audit and the brand withdrew their orders and told management to address the problem. The workers appreciated this behaviour by the brand, she said.
Related