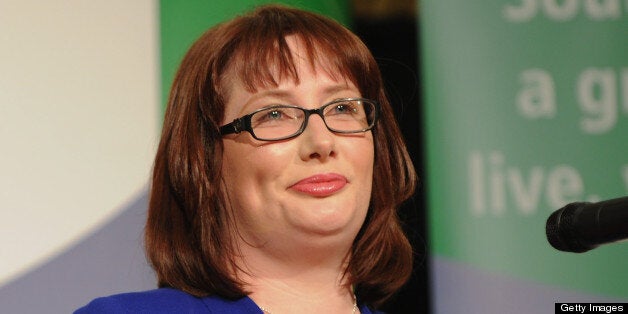 Labour won the South Shields parliamentary by-election in a contest marked by a strong challenge from the UK Independence Party (Ukip).
Nigel Farage's party, which is also expecting local election successes today, secured 24% of the vote as Labour's Emma Lewell-Buck held the seat with a reduced majority of 6,505.
The result was disastrous for the Liberal Democrats, who came seventh and lost their deposit, and also bad for the Conservatives who picked up 11.5% of the vote.
The South Shields contest was triggered by former foreign secretary David Miliband's decision to quit politics and head to the United States to lead an international charity.
Labour's majority was reduced from the 11,109 achieved by Mr Miliband and the 50.5% share of the vote was the party's lowest in the safe seat since 1983.
Ukip's deputy leader Paul Nuttall said the party was on the verge of making the breakthrough in parliamentary elections.
"It shows we are a party on an upward trajectory, that we are going places and it also shows that we are not just a southern-based party taking votes from the Conservatives, we are taking votes in the north as well," he told the BBC.
"We have been knocking on the door of Westminster now for the past two years, and very soon we will kick that door in and once we get one, we'll get two, we'll get four and then we'll be in there and things will change forever."
The coalition parties were braced for losses at the hands of Ukip in contests across 35 councils in England and Wales.
Voters have gone to the polls in 34 council contests across England, plus the Isle of Anglesey in Wales, with an eligible electorate of around 40% of the UK total.
A Ukip source said "we are expecting a cracking night" and the party would "triple or quadruple our vote from 2009" when the council seats were last contested.
But Tory International Development Secretary Justine Greening said Ukip did not have any "substance" and insisted the Government was listening to people's concerns.
Appearing on BBC1's Question Time, she said: "I think as people take more of a look at Ukip they will be able to form their own opinion about whether there is any substance underneath the policies.
"I personally don't think that there is but I think it's up to voters to decide, obviously."
Deputy Labour leader Harriet Harman told the programme Ukip's rise was a "wake-up call" for the establishment parties, but some of its politics were "quite threatening".
She said: "We should listen very seriously if people are feeling disaffected and disenchanted. It is a challenge to us. It's a wake-up call for us to actually listen to people who feel that times are hard and wonder whether any of us have actually got the answers."
But she added: "I don't take the easy assumption 'Oh well, it's great because it's going to take votes off the Conservatives'. I think some of their politics is quite threatening and we shouldn't be complacent either."
Lib Dem veteran Baroness Williams of Crosby told the programme Ukip would not "last that long" as a political force.
She said: "I may be wrong, but I think what they are doing essentially is trading on protest and they don't have anything very solid to say about the problems that really face the country.
The Tory majority on Somerset County Council appeared to be under pressure in early results after triumphs for Lib Dems and independents.
However boundary changes make comparisons difficult to calculate at this stage.