Cambridge University students have once again stripped naked or dressed up, got drunk and covered themselves in whipped cream to celebrate Caesarian Sunday. And we say - good on yer.
The revellers, who celebrated their last day of freedom before exams, defied police and university warnings to hold their antics inside, and flocked to Jesus Green for some good old alcohol-fuelled fun.
A university spokesman said some colleges had asked students not to attend to "avoid the regrettable behaviour of recent years".
Students stripped off and lathered on the cream
The students did take some note of the warnings, however, as the tradition for Jesus College's drinking society and their Green Giants foes from Girton was cancelled for the first time in 80 years. According to local newspaper the Cambridge News, Sunday's party "boiled over" and two female students had been issued with a fixed penalty notice for urinating in public.
The Daily Mail took its turn in reporting the "drunken brawling", and alleged around 2,000 students took part in "boozy games, enjoying semi-dressed antics in front of shocked families".
Oh, the horror!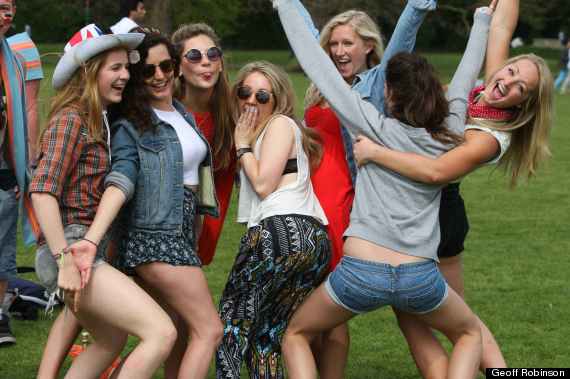 Thousands of Cambridge University students attended a summer party in a city centre park on Sunday
Student publication The Cambridge Tab reported on the "remarkably civil" event - and you can watch its video broadcast below.
SEE ALSO:
In the meantime, you can ogle jealously over students kicking back and having some good old fun.