As the song goes, many wanna be like Jürgen Klopp. But did Dean Saunders, sacked by Wolves today after they were relegated down to League One, wanna be like Brendan Rodgers?
Saunders, appointed Wolves manager in January after the predictably disastrous Stale Solbakken tenure, cemented his legacy at the club not only by overseeing their demotion to English football's third tier, but with some truly bizarre quotes.
The alarm bells began ringing when the ex-Liverpool striker revealed to former teammate Mark Lawrenson on Football Focus that he used to have a Lance Armstrong quote stuck up at Doncaster Rovers' training ground as a source of inspiration.
When asked about Wolves' fight to remain in the Championship, he cited not the squad's attitude, or quality, or upcoming fixtures, but a bookmakers' odds.
"And another thing that has pleased me is in Ladbrokes, we're not one of the three favourites to get relegated and they don't normally get it wrong," Saunders boasted in February.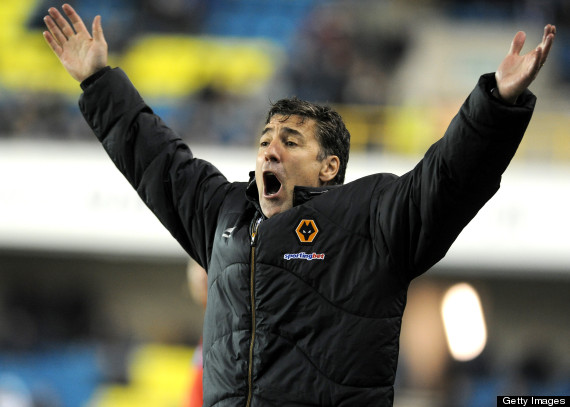 Saunders sees Ladbrokes have changed their odds
"They have looked at our squad and thought 'they will get out of it' and that's what I'm thinking."
Incidentally, in the same press conference, the Welshman also said, "I've never been sacked before and I will not be sacked here."
Considering he was an underdog, there was a reference to Rocky, too...
"We've got players here with the knack. You always have an eye for a goal but you can lose your eye of the tiger. I've still got my eye for goal now but if you lose your eye of the tiger you are not actually moving to where the ball is going. It is belief and confidence. When you are scoring you have got the eye of the tiger."
And then he turned to cricket...
"I have got self-belief. If you said to me 'Do you want to open the batting for England. They are playing down the road', I'd say 'Go on then, give me a bat'.Then I'd get to the bottom step and see the fast bowler marking his run-up and realise I can't do that. But my first reaction is 'I will give it a go'."
He gave it a go at Molineux, and the stumps have gone flying.