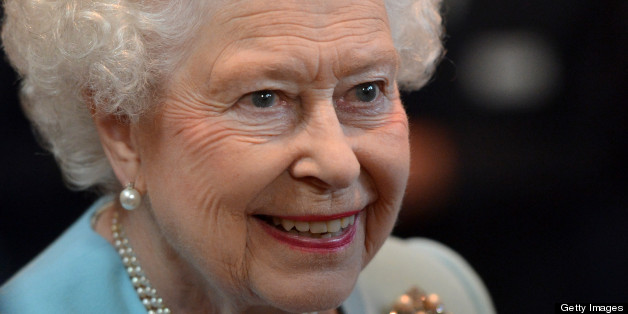 Getty Images
The ten things you need to know on Wednesday 8 May 2013...
1) A MODEST SPEECH FROM HER MAJESTY
From the Times:
"The Queen will open a new session of Parliament by announcing a comparatively modest legislative agenda after Downing Street pared back its proposed list of Bills.
"Amid complaints from Tory MPs that the Government is failing to address the interests of core voters, plans for minimum alcohol pricing and plain cigarette packets have been junked.
"Plans to set up a register of lobbyists and to give voters the power to recall their MPs have also been shelved. Mr Cameron's promise to enshrine in law spending on overseas aid at the international target of 0.7 per cent of national output is being quietly killed."
But the paper adds that the PM and his Lib Dem deputy "will dismiss questions about whether the Coalition has run out of steam with two years to go until a general election.
"In a joint statement today, they will insist: 'Our resolve to turn our country around has never been stronger.' The Queen's Speech is about 'backing people who work hard and want to get on in life', they will say."
The Telegraph reports that the Queen's speech "is expected to contain more than a dozen parliamentary Bills. Measures to reform the state pension, cap the costs of long–term care, rehabilitate criminals and reduce regulations on business will be outlined. A National Insurance Contributions Bill will cut the cost of the tax for smaller firms taking on employees, and a Consumer Rights Bill will improve the rights of online shoppers."
We'll also see lots of new measures to crack down on immigrants and immigration - from limiting the ability of EU migrants to claim benefits, charging temporar migrants for using the NHS, restricting new immigrants' rights to social housing, making it easier to deport foreign criminals and, according to the Telegraph, making private landlords "legally responsible for ensuring that they only let properties to people allowed to be in Britain".
The Mirror - rightly - calls this the "PM's swing to the right".
The big question, however, is: what specific and credible measures will the Queen unveil this morning, at 11.30, that will help stimulate demand and kickstart growth in a flatlining UK economy?
2) LORD LAWSON'S ARMY
The Times follows up on yesterday's Nigel Lawson/withdraw-from-the-EU splash:
"Voters and Tory MPs warned David Cameron that he must scale back Britain's relationship with the European Union to little more than free trade or risk losing a referendum."
"... Forty two per cent of voters said that they wanted a relationship based on free trade and little else while 21 per cent called for British withdrawal, according to the YouGov poll for The Times.
"If there was an in-out referendum tomorrow, 46 per cent said they would vote to quit the EU against 35 per cent who would vote to stay in."
I guess the only response to this is to point out that there isn't going to be such a referendum "tomorrow". It's still four years away and there will be a referendum campaign in which the 'Ins" will have the time and space to make the case for EU membership against the "Outs". (If you want a good summary of who's on on the Lawson/Out side, my colleague Ned Simons has put together a picture gallery here.)
Meanwhile, the Times also reports that "there are now at least five positions adopted by Tory MPs towards the EU and a referendum — leave now, as advocated by Lord Lawson; legislate now to guarantee in law a 2017 in-out referendum, championed by MP John Baron and backed by more than 100 Tory MPs; hold a 'mandate' referendum next Spring to empower Mr Cameron's negotiating hand, promoted by David Davis; stage an EU referendum on the same day as the May 2015 general election, supported by Sarah Woolaston; and Mr Cameron's negotiate now, vote later approach."
Divided we stand, eh?
3) IMPOSSIBLE MISSIONS FORCE
No, not that IMF. From the Independent's splash:
"George Osborne's austerity programme faces a major challenge today when a team from the International Monetary Fund (IMF) arrives in Britain to conduct its annual 'health check' on the economy.
"Treasury officials will defend the Chancellor's Plan A. But there is growing concern among ministers that the IMF will make its most explicit call for the spending cuts to be slowed at the end of its two-week visit. Mr Osborne would almost certainly reject such a verdict and plough on with Plan A. But, as the global consensus appears to turn against austerity, he might be left looking increasingly isolated."
The paper also reports on a new study from the TUC which reveals that "Britain's recovery is slower than 23 of the 33 advanced economies monitored by the IMF, suggesting the UK is trailing in the 'global race' trumpeted by David Cameron. It found that income per head will not return to pre-crash levels until 2017. In contrast, in the United States and Germany, income per head will be more than 10 per cent higher a decade after the financial crisis."
Meanwhile, former shadow cabinet minister and Ed Miliband ally Peter Hain has, according to the Guardian, "urged the shadow Treasury team to do more to make Labour's case for growth in the aftermath of the local elections.
"Hain, writing for Progress Online, suggests he would like the party to be less equivocal about its economic policy and warns that if the party is to win an outright majority at the general election it will need to be performing electorally better than at present."
Hain writes: "We cannot afford to be equivocal about our economic policy. We need to be more upfront with the public about our intentions. Yes, we will borrow more in the short-term, in order to generate growth that will reduce borrowing in the medium-term."
4) TURNER TURNS ON AUSTERITY
It isn't just the IMF. Another big figure from the world of economics and finance has come out against austerity. This time it's Adair Turner, former chair of the Financial Services Authority (FSA), in an interview with me for Al Jazeera English.
From the Huffington Post:
"Turner said 'we have been too certain that short-term austerity can produce a benefit. I think it's not true that short-term austerity produces a confidence effect.'
"... In what will be seen as a critique of the chancellor George Osborne's fiscal policies, the former regulator said: "I think the difficulty is that when the public debt levels go up in the crisis you feel you've got to get that under control.. but if you try and get it under control quickly, by cutting public expenditure or increasing taxes in the short term, you can enter a cycle where the very process of trying to get your debt levels down mean you never get the debt levels down."
Turner also told me that, ideally, the banks should have been nationalised, rather than simply bailed out, in 2008 and expressed concerns that there could be another financial crash 'in 10 or 15 years'."
5) 'WHO MADE THE POOREST POORER?' HMM...
Remember when David Cameron, in his final conference speech as leader of the opposition in October 2009, got all angry and red-faced and asked (to rapturous applause from Tory members in the hall): "Who made the poorest poorer?... Who made inequality greater? No, not the wicked Tories. You, Labour: you're the ones that did this to our society."
Well, perhaps the PM himself has forgotten that speech. And perhaps he should now take a look at the latest figures from the Institute for Fiscal Studies (IFS).
From the Guardian:
"One in four children in Britain - 3.4 million - will be in relative poverty by 2020, the Institute for Fiscal Studies warned yesterday. In a report, conducted for the Northern Ireland executive but held to describe the position in the UK as a whole, the IFS says 'tax and benefit reforms introduced since April 2010 can account for almost all of the increases in child poverty projected over the next few years'.
"The shakeup will result in another 600,000 children falling into relative poverty during this parliament, with this figure rising by more than 1 million by 2020, the IFS says. The jump will result in Britain missing binding targets to reduce child poverty by 2020. The target was to reduce child poverty to one in 10, or fewer, of all children, or about 1.3 million."
BECAUSE YOU'VE READ THIS FAR...
Watch this video of how not to move a 400-tonne crane.
6) 'WORST TWO DAYS OF MY LIFE'
From the Express:
"Deputy Commons Speaker Nigel Evans has told of the support he has had from around the world after going through what he described as the 'worst two days of my life'.
"The Tory MP told reporters in Westminster he would be 'getting back on with the work I need to be doing as a constituency MP', and intended to resume his duties in the Speaker's chair once debate on the Queen's Speech is over.
"Mr Evans was arrested on Saturday and questioned by police over rape and sexual assault allegations which he says are 'completely false'.
"Speaker John Bercow has agreed that he should be excused from his duties chairing the Queen's Speech debate, which opens on Wednesday."
7) MOSCOW 'READY TO CO-OPERATE' ON SYRIA?
When will the Russians decide to call on their blood-stained client Bashar al Assad to step down for the good of his nation and his Alawite community?
From the Independent:
"Russia and the United States announced late last night that they will convene a conference by the end of the month to bring together representatives of Syrian President Bashar al-Assad and the opposition and rebel groups fighting his regime.
"The decision was announced at a midnight press conference in Moscow between the Russian Foreign Minister Sergei Lavrov and US Secretary of State John Kerry, who claimed that 'we are here to say that we are ready to co-operate'."
The paper notes that Kerry, on his first trip to Russia as US Secretary of State, "was kept waiting for three hours by Russian President Vladimir Putin in the Kremlin". Winning over the Russians won't be easy but the simple, unavoidable truth is this: the road to a non-military solution to the Syrian conflict runs through Moscow...
8) £2.7 BILLION
"Cuts? What cuts?" That's the sarcastic line often deployed by right-wingers who want to see more, not less, austerity and claim the level of fiscal consolidation so far has been mild. Well, tell that to the Association of Directors of Adult Social Services (Adass). From the Guardian:
"More older people and citizens with disabilities will be denied state-funded care support over the next two years as local authority finances continue to take a battering from funding cuts, social care chiefs have warned.
"The scale and severity of the financial squeeze is laid bare in a survey which shows that by April councils in England will have stripped out £2.7bn from adult social care services since 2010 - equivalent to 20% of their care budgets - even as demand for services continues to rise."
9) ACCOUNTANTS BACK TAX REFORM. OR MAYBE THEY DON'T.
Confused? I don't blame you. The Daily Mail reports:
"'Big Four' accountant Ernst & Young has backed measures to improve tax transparency... John Dixon, tax chief at E&Y, said big business had reached a 'tipping point' on tax and could only regain public trust by 'seizing the initiative'."
But the Guardian reports:
"Top tax advisers at Ernst & Young, auditors to Google, Amazon and Facebook, have held a high-level lobbying meeting at Number 10, urging the prime minister not to support calls for financial transparency measures which have been proposed by tax fairness campaigners.
"John Dixon, E&Y's head of tax in the UK, said he and the firm's global head of tax policy, Chris Sanger, had taken their lobbying message to Downing Street because 'it is not an issue that is going to go away and it is receiving a huge amount of interest at the highest level of our society'.
I guess the difference in reporting here is based on the difference between voluntary and compulsory tax reform - E&Y back the former, not the latter. Surprise, surprise!
I know which one I back...
10) THE QUEEN, THE GOAT AND THE UKIP THREAT
And finally, the BBC's Nick Robinson explains on Twitter why the government can credibly claim that it isn't unveiling lots of anti-immigration measures this morning in response to the Ukip surge last Thursday:
"@bbcnickrobinson Goat is the reason Queen's Speech cannot be reaction to local elections. It's written on vellum. Ink takes 3 days to dry so written early!"
PUBLIC OPINION WATCH
From today's Sun/YouGov poll:
Labour 39
Conservatives 29
Ukip 16
Lib Dems 9
That would give Labour a majority of 110.
140 CHARACTERS OR LESS
@ChukaUmunna Our Queen's Speech would include a Banking Bill that backs British business with a proper British Investment Bank and new regional banks
@gabyhinsliff Of all the events that felt v significant when I was a lobby hack but in real life nobody cares about, Queen's Speech tops the list
@Kevin_Maguire Gilbert & Sullivan day in Parliament. Frock coats, knee breeches and smell of ermine.Horse drawn carriage due 10.30ish #strewth
900 WORDS OR MORE
Mary Riddell, writing in the Telegraph, says: "For all his proficiency on the pallet, Ed Miliband still can't speak human."
Ha-Joon Chang, writing in the Guardian, says: "Watch out, George Osborne: Smith, Marx and even the IMF are after you."
Daniel Finkelstein, writing in the Times, says: "Cameron needs a big-tent Conservatism."
Got something you want to share? Please send any stories/tips/quotes/pix/plugs/gossip to Mehdi Hasan (mehdi.hasan@huffingtonpost.com) or Ned Simons (ned.simons@huffingtonpost.com). You can also follow us on Twitter: @mehdirhasan, @nedsimons and @huffpostukpol