Amanda Berry and Gina DeJesus, two women held captive for years in an Ohio house, have returned home to colourful crowds of well-wishers, banners and balloons.
Berry, 27, returned to her sister's home in Cleveland to huge placards, one of which read: "We missed you very much." She returned to her sister Beth Serrano's home under police guard and was hurried inside, despite initial reports that she would make a statement to the media.
Serrano emerged from the house a few minutes later, to speak to the jostling crowd of reporters and cameramen. "We have Amanda and her daughter home," she said.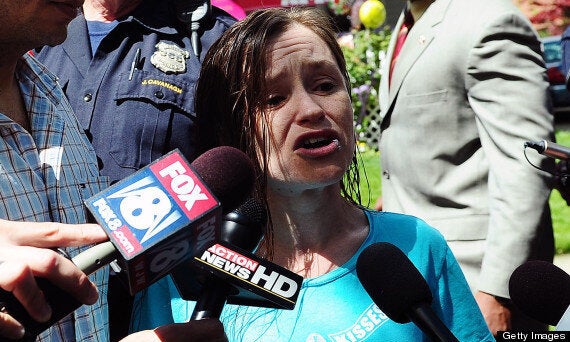 Beth Berry Serrano, the sister of Amanda Berry makes a statement to the media after her sister arrived at her home
"I want to thank the public and the media for their support and their encouragement over the years. At this time our family would request privacy so my sister and niece and I can have time to recover."
DeJesus arrived home, her face covered by her yellow hooded top, and quickly made her way into the house, but gave a thumbs up to the waiting crowd, who cheered wildly "Gina, Gina".
Aunt Sandra Ruiz told the waiting crowds not to launch vigilante attacks against the families of those suspected of holding the three girls captive, brothers Ariel, Pedro and Onil Castro.
She said: "I'm asking God to watch over all of us, and the last thing the family is asking is that we as a community do not go retaliate against the family or the suspects of this crime."
She continued: "There are not enough words to say or express the joy that we feel for the return of our family member Gina, and now Amanda Berry, her daughter and Michelle Knight who is our family also.
"I want to say thank you, but I'm also going to put my foot down as the mean one of the family. We are asking for your support to be patient with us.
"Give us time and privacy to heal. When we're ready, I promise every single one of you guys that we'll talk to you."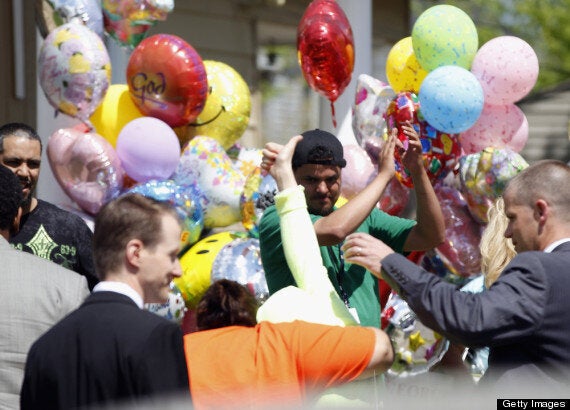 Gina DeJesus raises her thumb as she arrives at her family house
The third woman held captive in the house, Michelle Knight, is not believed to have returned home yet.
The women were reportedly restrained with ceiling chains during their time held prisoner in the house.
McGrath provided few other details about how long the women were restrained, saying, "We'll have a better feel for that question once the interviews with the victims is completed later today."
Neighbours said they reported seeing naked women tethered with dog leashes crawling on their hands and knees in the Castro's backyard, but that police did not take action.
But Cleveland city hall released out a statement that read: "Media reports of multiple calls to the Cleveland police reporting suspicious activity and the mistreatment of women at 2207 Seymour are false."
Police found only two incidents in their records involving Castro, one before the girls went missing, and another relating to an unattended boy found on a school bus he was driving.
McGrath told reporters: "We will review the work we have done to find the girls over the last decade to try to understand if mistakes were made.

3 Missing Cleveland Women Found