The many fans of Benedict Cumberbatch - including the ones of the adoring, mostly female, variety, the 'Cumberbitches' as he reluctantly acknowledged to Graham Norton last week - need not fear... their hero has no concerns about overexposure, on screen at least.
"The only thing I fear is overexposure as a human being," he tells HuffPostUK in London. "I'm fine at the moment. I have enough resources to keep working, though everyone has their limits, and I've really enjoyed the variety and volume of work over the last couple of years."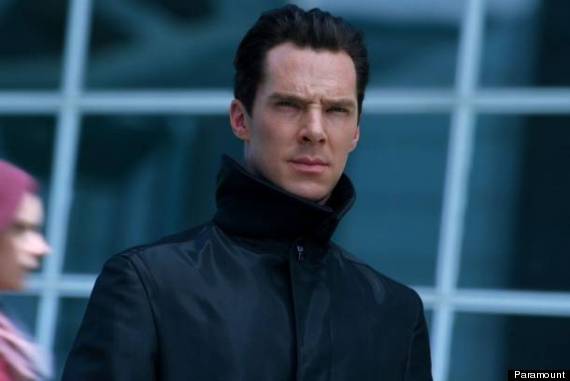 Benedict Cumberbatch's 'Star Trek' villain John Harrison is the latest in a long line of British villains in US films
Off-screen for the 'Sherlock' star is another matter.
"It will bring a new level of scrutiny, investigation into the personal or private, which I'm getting used to. It's not all roses, but it's ok. It would be churlish to say I wasn't aware of the reality of it, but there are ways of sidestepping not courting it. I'm interested in it being about the work, but I understand why people are obsessed with the personal as well.
"It doesn't mean you like it.
"You lose control over privacy. You can't control perceptions any more, the whole anti-Downton thing (when Cumberbatch's jokes dissing Downton were taken out of context)... the posh thing... saying Johnny (Miller) did Elementary (the US 'Sherlock' project) for the money."
FEATURE: Cumberbatch's 8 Steps To Screen Stardom
Cumberbatch gestures to a smartly-dressed lady, sitting quietly at the side of the room. "This is Emily, my niece. We were out to dinner celebrating the fact that I got nominated for a Golden Globe, she gets into a car with me, and there are 15 paps on the bonnet, spraying us with flash photography. You accept that it happens, of course it's weird. I only have to stand next to someone at a tea party.
"I'm sanguine about it, you can't explain, you can't complain, you move on."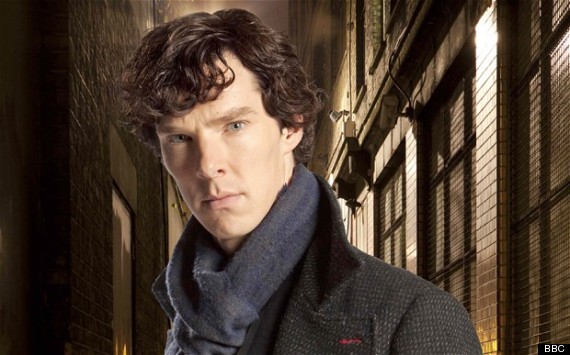 'Sherlock' will be returning for a third series later in the year
And we move on... to his current screen role, which can only increase the number of bonnet-bound paps surely, that of villain John Harrison in JJ Abrams blockbuster sequel 'Star Trek Into Darkness', a project about which Cumberbatch seems inordinately chuffed.
"It's part of the job to mythologise the experience, and you don't have to do that with this one. It's as easy as breath to talk about this one."
Abrams has waxed equally lyrical about Cumberbatch's talents, calling him "an extraordinary talent, one of the greatest actors I've ever seen", and it does seem that the 'Sherlock' star has imbued his villain with some unusual depth... "There is a sort of three dimensionality to this character, which was great fun to get teeth into, and you do get to sympathise with him, despite the fact he's a terrorist intent on destruction, and he's violent and despicable.
"But the reasons he does it are noble, in the tradition of the rebel power. Someone's trying to fight the superpower, and in this story, that would be star fleet."
Cumberbatch takes his place in a long, celebrated line of British on-screen villainy. While Ben Kingsley recently told HuffPostUK this tradition was because our native actors "are cheap and turn up on time", Cumberbatch appears a little more reflective...
"There have enough people who been vilified in American politics to have American villains now, but it is a very American thing, to have British villains.
"I think we're still, despite being the origination of America with other Dutch French et al, there is an element to us of being outside of the culture, reminding themselves a little of what they were.
There's an echo, we carry traditions, theatre traditions, but I think it might be something to do with charm, someone who can persuade through having a degree of otherness. Intelligence always works well, something debonair and different."
Debonair and different. Sums it all up, really.
'Star Trek: Into Darkness' is in UK cinemas this week. Watch our exclusive featurette - 'JJ Abrams' vision' - above, and the trailer below...