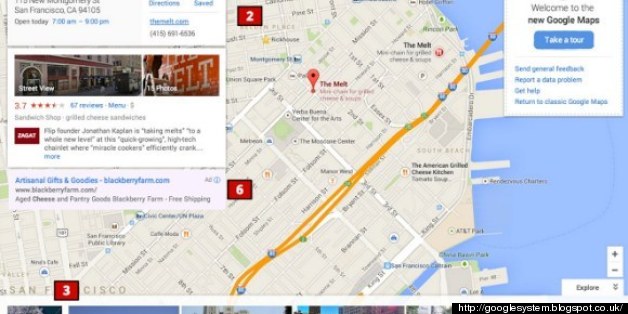 http://googlesystem.blogspot.co.uk/
A new-look Google Maps may have just been leaked.
The search giant's mapping service is widely regarded as one of the most usable and complete on the web.
But with renewed competition from Microsoft, Nokia and even Apple's improving iOS Maps app, it's clearly looking to innovate again.
Two screen shots from a blog called Google Operating System (not an official site) show an all-new Maps experience. And if they're real, it's a big change.
The new look is cleaner, with more focus on images and less clutter than the current version. The familiar sidebar is removed, replaced by overlays which can be moved or rolled up out of sight.
Engadget speculates there may also be deeper integration with the Google+ social network.
Take a look at the new Maps below. We'll likely find out more at Google I/O, which starts on March 13.