Gordon Strachan, like many men who crossed Sir Alex Ferguson, experienced an uneasy relationship with the man who managed him at Aberdeen and Manchester United, as well as for Scotland at the 1986 World Cup. Strachan, stifled by the Mexican heat, once told a story of how he lie awake at night listening between the walls to hear what Ferguson, located in the room next to him, was saying.
David Moyes did something similar when a player at Celtic, as Ferguson's Aberdeen upset the Old Firm's monopoly in Scottish football during the early and mid-80s.
"I remember sitting on the bench at Celtic and watching him at Aberdeen with his veins bulging out of his neck!" Moyes recalled last year. Paul Gascoigne, who briefly played under Moyes at the beginning of his distinguished Everton tenure, said he used to observe Ferguson. United's official website, about 20 minutes after it announced the club's penchant for Scottish managers would continue, ran a feature titled, "Moyes: Cut from the same cloth".
Some joked Moyes could practice the Hairdryer Mk.II on United's press office, who let the cat screaming out of the bag on Twitter yesterday with a premature announcement. There are unquestionable similarities between Moyes and Ferguson, from the cold-eyed thousand-mile stare to their longevity. Both men also turned out for Dunfermline Athletic in their playing days, but on a managerial basis there is one glaring difference which separates them: Ferguson is a winner.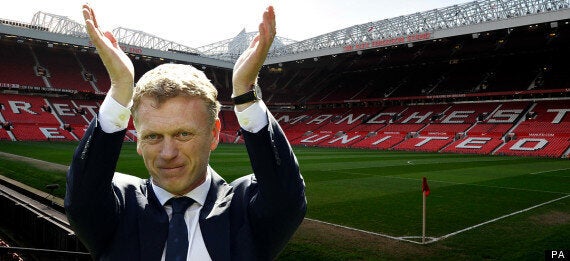 Moyes has signed a six-year contract with United
The same cannot be said of Moyes just yet. He did a very good job at Everton but suggestions he overachieved belittle the fourth most successful league club in English football history. Everton's failure to win at any of the old big four's grounds in 11 years is a startling statistic when one considers Fulham, Birmingham City, Middlesbrough, Blackpool, Bolton Wanderers, Queens Park Rangers and Wigan Athletic have recorded results at Old Trafford, Stamford Bridge, Anfield or the Emirates during the Moyes era.
In the 2009 FA Cup final, Louis Saha gave the Toffees the lead inside the opening 25 seconds but they had just one more shot on target as Chelsea comfortably won 2-1. Three years later, the parallels were unmistakable as Liverpool recovered after Nikica Jelavić's opener to prevail by the same scoreline.
His era was also pockmarked by a supposedly negative approach. Everton fans became disgruntled at his occasionally unfathomable substitutions when he withdrew attacker Manuel Fernandes and striker Victor Anichebe for defenders Gary Naysmith and Tony Hibbert at home to Tottenham in 2007 with the score at 1-1. Jermaine Jenas hit the winner for Spurs two minutes from time.
Diniyar Bilyaletdinov, an erratic yet silky Russian midfielder, fired a parting shot ahead of his transfer to Spartak Moscow when he said Everton had "problems with creating scoring chances". Recently, Moyes said of the flamboyant Kevin Mirallas, "maybe he's not quite got what's required at Everton or the Premier League" after the Belgian had scored four goals in six games.
Ferguson enjoyed some ding-dong affairs with Moyes, though. United's record at Everton was immaculate until Duncan Ferguson repeated his Goodison heroics of 1995 10 years later, and Everton have lost just once at home to United in the teams' last five meetings. Between 1995-96 and 2003-04, United won eight out of nine games at Goodison and drew the other. Duncan Ferguson haunts United again in 2005
Moyes' Everton have fought back in two notable matches against Ferguson. 3-1 down in the 90th minute two seasons ago, Tim Cahill and Mikel Arteta pounced to give United a dose of their own medicine and the Blues' recovery from 4-2 down to snatch a 4-4 draw at Old Trafford last season effectively cost United the title. Nine years ago, Everton, inspired by Wayne Rooney, nearly salvaged a 3-3 draw having trailed 3-0 at the interval, only Ruud van Nistelrooy scored a last-gasp header for another United win at Goodison.
Moyes had a touchline row with Ferguson during Everton's 2005 win, his eyes bulging like Malcolm Tucker. Like Ferguson, he has a frightening b********g face.
Such characteristics will hearten United fans as a new age dawns, but one of the great assets Moyes enjoyed at Everton was the Goodison crowd. Old Trafford is nearly twice as large, but its atmosphere is incomparable. Just ask the United fans at Goodison who heard the roar when Ferguson headed past Tim Howard eight years ago. Come on feel the Moyes.
Wayne Rooney, who Moyes sued in 2008, has asked to leave United for a second time in two seasons, but Moyes will relish the challenge of persuading him to stay and then managing the teen prodigy he eased into the Everton first team 10 seasons ago. His handling of Rooney's rise was similar to that of Ferguson's protection of Ryan Giggs. The Welshman gave his first interview three years after his United debut at the age of 20, with the BBC's football doyen Barry Davies tasked with asking the questions.
Handed a six-year contract, Moyes will preserve United's stability, albeit at the cost of reining in expectations. United's "unanimous" decision to appoint him came with a glaring caveat when Sir Bobby Charlton, who never hid his disdain for José Mourinho, said in Thursday's statement Moyes "recognises the importance of bringing young players through and developing them alongside world class talent". Yet Everton are hardly renowned for their youth system and the success rate, apart from Rooney, Seamus Coleman, Jack Rodwell and Ross Barkley, is low. Rodwell struggled at Goodison so quickly he was nicknamed "the crab" by supporters. Moyes has always been highly regarded by Ferguson
Last year, it seemed the ship for Moyes to board for a greater challenge had sailed when Tottenham Hotspur overlooked him in favour of André Villas-Boas. His and Everton's matrimony has stagnated in his final season, with the Scot, who reportedly earns £65,000 a week, set to guide the club to a top-10 finish yet miss out on a European berth again.
Then the call of a lifetime arrived and he will move from one of the cushiest jobs to the most daunting job. Despite Glazernomics, the Old Trafford budget will seem like a war chest compared to the shoestring equivalent he had to work with at Everton, and it will be fascinating to see how his approach changes.
With Chelsea likely to be bolstered by Mourinho and City unlikely to repeat the mistakes of last summer, the competition has intensified, although Moyes likes it that way.
"When I went to speak to him about becoming his assistant years ago he thought me a little too intense," Moyes said last year of his 1999 meeting with Ferguson. With the master upstairs, he won't have to listen through the Old Trafford walls.