A private dinner hosted by Oxford University to celebrate its controversial new partnership with oil company Shell was dramatically gatecrashed by protesters campaigning against the "irresponsible" deal.
The uninvited guests, who were part of a larger protest against Shell financing a new Earth Sciences laboratory, say they were "dragged out" by security despite their peaceful approach.
On Thursday, students, staff, experts and alumni gathered to greet Energy Minister Ed Davey as he attended the new Shell Geoscience Laboratory opening ceremony.
The deal will include research on the location of black shale, which, according to campaigners, will be of "great assistance" to Shell in locating and extracting more fossil fuels "at a time of climate emergency". However Oxford University insists this is just "one part of a big research programme".
Two protesters gatecrashed the celebratory dinner held by the Earth Sciences department, Shell and the university's vice-chancellor, to "politely" explain why the protest was taking place. One member of the UK Tar Sands group, who helped organise the protest, told HuffPost UK: "One of [the protestors] started to calmly and politely explain why there was so much concern about the partnership, but got dragged out by porters."
Footage of protesters interrupting the dinner at St Edmund's Hall
High profile climate change campaigner and Oxford alumnus Jeremy Leggett said he was "ashamed" of his former university's decision to shake hands with Shell.
"Shell has abandoned all pretence at playing a role in saving civilisation from the ruin of six degree global warming. Universities are increasingly part of the problem too. 'Most have become complicit seekers of funding, for short-term perceived interests, when a liveable future is at stake for the very students they educate.
"This union of my alma mater with Shell is a potent symbol of the suicide pact we are all now part of.
"I have such fond memories of my time in this department. Now I am almost as ashamed of it as I am appalled by Shell's desperate defence of a deadly status quo, despite everything climate scientists know and warn of."
Ellen Gibson, an undergraduate at St Hilda's, was one of several students to take part in the protest against the partnership - which she described as "frankly irresponsible".
"Shell is a company with a long history of human rights abuses and environmental damage, as well as having an important role in the exploitation of fossil fuels and the consequence of this - potentially catastrophic global warming," she told the Huffington Post UK.
"As a research institution and university of world-class standard, this partnership certainly does no favours to Oxford's reputation as being morally and ethically world-class, as well as just worried about their pockets. Considering Oxford's own climate scientists have consistently warned of the dangers of burning fossil fuels, I see the partnership as frankly irresponsible on the part of the university.
"[Oxford] has a duty, in my view, to take this research seriously and set an example as an institution acting on such concerns in order to preserve their future and that of their students."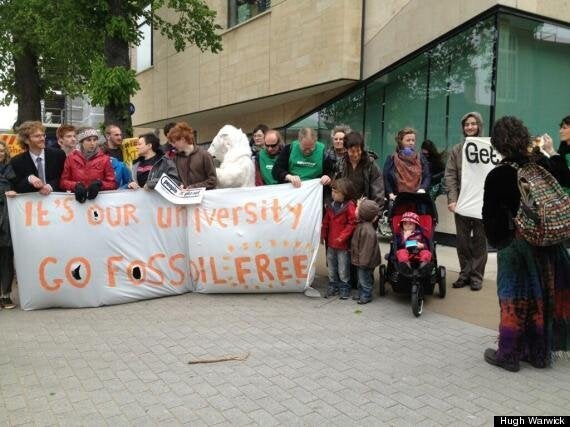 Students protesting their university's new partnership with oil company Shell
The university approached Shell to ask for financial support from the oil giant to fund research into sedimentary basins, the origins of source rocks and the geological storage of CO2. Shell will be giving the university data worth millions of pounds, in a move the university insists is crucial to its research.
A spokesperson for Oxford University said: "All Oxford University research is rigorous, independent and objective, and the terms of the partnership with Shell protects that independence. Shell is supporting research the University already wanted to pursue, both financially and through providing crucial data that will enable us to tackle fundamental research problems it would be impossible to study otherwise.
"The role of the research is to increase understanding of fundamental geological processes. The potential application of that understanding by industry and wider society includes not only meeting future energy needs, but mitigating and combating climate change."
Kate Allen, director of Amnesty International UK and also an Oxford alumnus, accused Shell of "consistently failed to own up to its responsibilities".
"By picking Shell, Oxford University has chosen an odd bedfellow," Allen said. "Amnesty International has consistently highlighted Shell's poor human rights record in the Niger Delta. Large parts of the region, home to more than 30m people, have become a polluted wasteland due to the activities of oil companies.
"Numerous oil spills have left local communities with little option but to drink polluted water, eat contaminated fish, and breathe in air that reeks of oil and gas. Yet Shell has consistently failed to own up to its responsibilities.
"If Oxford is to continue with this new relationship, the university authorities should exert all the pressure they can to persuade the oil giant to own up, pay up and clean up. Failure to do so will not only let Shell off the hook, but will tarnish the good name of Oxford University and betray the millions of people who live in the Niger Delta."
"We are united in our opposition to this new partnership and the growing trend of oil companies funding, and thus influencing, the research agenda of our universities. Shell is a particularly inappropriate choice of funder for an Earth sciences laboratory.

"Shell's core business activities and political lobbying are pushing us towards a future with a global temperature increase well in excess of 2C. Oxford's own climate scientists are warning us that we need to leave the majority of known fossil fuels in the ground, and yet this new partnership will undertake research that will help Shell to find and extract even more hydrocarbons."
A spokesperson for Shell said: Shell recognises that certain organisations are opposed to our industry. We respect the right of individuals and organisations to engage in a free and frank exchange of views about our operations. Recognising the right of individuals to express their point of view, we only ask that they do so with their safety and the safety of others, including Shell personnel, in mind."