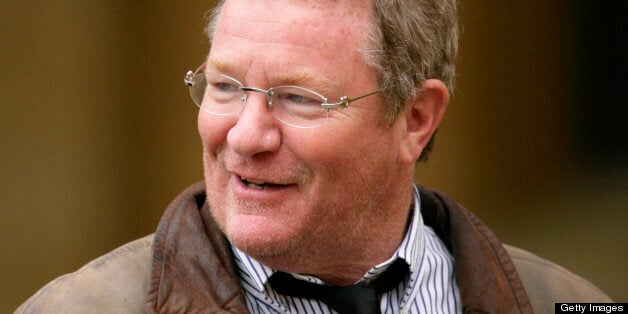 A lawyer for the entertainer Jim Davidson said on Saturday that his client has not been interviewed over an alleged historic sexual offence carried out in the Falkland Islands. Davidson, who on Friday was rebailed by detectives from Operation Yewtree - the probe launched in the aftermath of the Jimmy Savile scandal - was originally arrested by Scotland Yard in January over allegations of historic sexual offences against women in the UK. The 59-year-old has not been charged and has been bailed to July.
On Saturday it was reported that Yewtree detectives were carrying out an investigation on behalf of the Royal Falklands Island Police into an accusation that the comic indecently assaulted a woman while he was on tour and entertaining British troops. Davidson's solicitor Henri Brandman said: "Jim continues to vigorously deny the allegations that have been put to him and is helping the police as fully as possible in their inquiries. He has not been charged with any offence."
He added: "Jim has not been interviewed in respect of any alleged incident with a woman suggested to have taken place in the Falkland Islands about 30 years ago. Unless and until he is interviewed on that subject, neither he nor I can make any comment in that respect."
A Falklands police spokesman said: "The Falkland Islands Government have been made aware of allegations made against Jim Davidson. We have asked the Metropolitan Police to make enquiries relating to these allegations. We await the outcome of the investigation."
So far 12 people have been arrested as part of Operation Yewtree. A number of high-profile figures from the entertainment industry have been arrested as part of the investigation, which is being run in three strands: allegations against Savile, allegations involving Savile and others, and allegations involving others.
The dozen arrests include former pop star Gary Glitter, DJ Dave Lee Travis and comedian Freddie Starr. All deny any wrongdoing. PR guru Max Clifford was charged with 11 historic counts of indecent assault against teenage girls. The 70-year-old, who is due to appear at Westminster Magistrates' Court on May 28, has vowed to clear his name, describing the allegations as ''a load of nonsense''.
Earlier this week, veteran comedian Jimmy Tarbuck was arrested at his home in south-west London in connection with a historic child sex abuse allegation by North Yorkshire Police after receiving information from Scotland Yard detectives working on Yewtree.
Comments are closed for legal reasons.